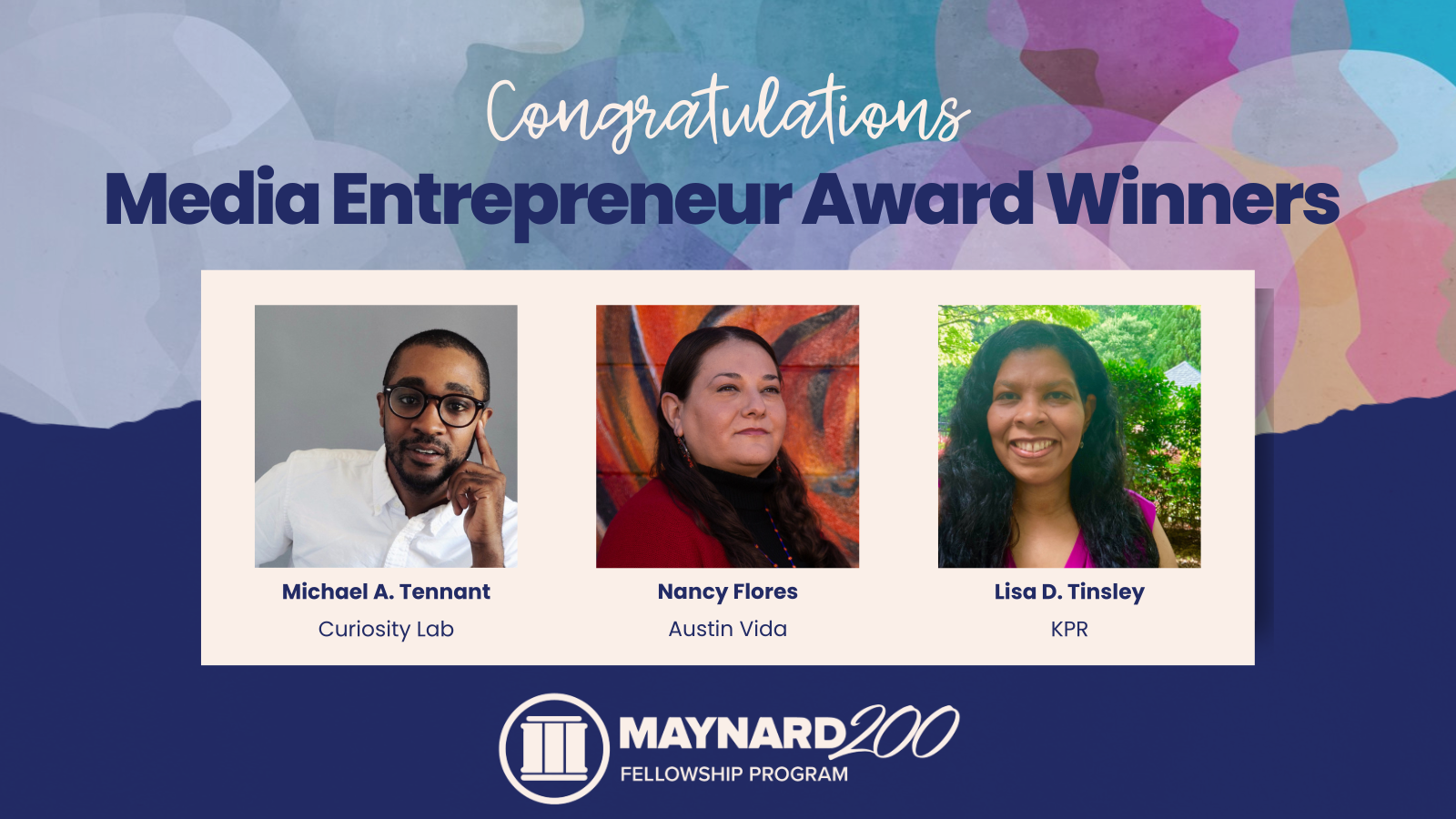 One of the Maynard Institute's core programs, the Maynard 200 Fellowship is designed to advance the careers of investigative storytellers, executive leaders, frontline editors and media entrepreneurs of diverse backgrounds (see bios). The fellowship provides professional development training and year-long mentorship. In 2022, media strategist Dickson Louie returned to lead the media entrepreneurship cohort and continued the media entrepreneurship award program originally launched in 2021. Based on the scores from a panel of media business experts, faculty, and Maynard 200 alumni, three fellows, Michael Tennant, Nancy Flores and Lisa D. Tinsley have been recognized for their outstanding media venture pitches.
About the Maynard 200 Media Entrepreneurship Awards
Given to the Fellow with the top overall score from the judges, the Dori J. Maynard Award honors the late president of the Maynard Institute and the daughter of Robert C. Maynard, our co-founder. The amount of this award, which is funded by Dickson Louie each year, is $1,000 and will go toward the operating expenses of the winning start-up.
The Quentin Hope Metrics Award in Entrepreneurship is a $1,000 prize funded by the Maynard Institute. The award honors Quentin Hope, who served as the coach for Institute co-directors Evelyn Hsu and Martin Reynolds in the year-long Media Transformation challenge and helped them define and create metrics for their projects.
We extend our thanks to the 2022 award judges Linda Lloyd da Silva, Peter Lamb, Ned Hawley, Clarisa Strohmeyer, Travers Johnson, Waylae Gregoire, Cathy Eckstein, Caroline Ceniza-Levine and Susan Leath.
Congratulations Media Entrepreneurship Award Winners
Dori J. Maynard Media Entrepreneurship Award
Michael Tennant is the recipient of this year's Dori J. Maynard Media Entrepreneurship Award for his presentation on his start-up, Curiosity Lab.
Tennant is a founder, writer and movement builder dedicated to spreading tools of empathy and helping people find their purpose. Before founding Curiosity Lab in 2017, he spent 15 years becoming a media, advertising and nonprofit executive, and delivering awardwinning marketing strategies for companies like MTV, Vice, Procter & Gamble, Coca-Cola, Sweetgreen and Oatly.
Tennant created Actually Curious, the conversation card game that became a viral sensation in 2020 during the pandemic and the rise of the racial justice movement for helping people to build meaningful connections and tackle important topics facing the world.
He has channeled his business success and momentum into a sustained movement supporting BIPOC and other underrepresented communities through speaking, writing, leadership, mentorship, consulting, partnerships and talent-pipeline programs.
Quentin Hope Metrics Award
In a statistical tie, Nancy Flores and Lisa D. Tinsley are the recipients of this year's Quentin Hope Metrics Award. This award is given to the Fellow with the top overall score in the metrics category.
Flores had presented on her startup, Austin Vida, a digital news and culture site that amplifies, informs, and celebrates the Latinidad of the Austin community with culturally-competent news.
In addition to editor and publisher of Austin Vida, Nancy is an award-winning local journalist. She founded Cultura Media, Austin Vida's umbrella organization, and was recently named one of "Austin's Top Latina Entrepreneurs to Watch" by the digital news outlet Austonia.
Flores grew up in the bordertown of Eagle Pass, Texas, and is the proud daughter of Mexican immigrants. She has specialized in writing about underrepresented Central Texas communities, most recently reporting for the Austin American-Statesman and Austin360. Her contributions to Austin's Latino community recently earned her the Award of Excellence in Media Arts from the city's Mexican American Cultural Center. In 2019, Remezcla listed her among the nation's "Latino Columnists You Should Be Reading."
Tinsley discussed her venture, KISA Public Radio (KPR), an independent, nonprofit media organization that was founded on a mission to enlighten the world about the African American community. Every day, KISA Public Radio connects with thousands worldwide on the air and online to explore issues affecting the African American community. Programming includes news about health, science, entrepreneurship, arts, culture and more.
Tinsley has worked as a news researcher and archivist for 25 years. She loves to share her research that will enrich the lives of others. Tinsley launched KISA Public Radio in 2017, and when not working as program director of the radio station, she can be found found volunteering with food banks and Habitat for Humanity, traveling with family and friends and watching documentaries.
About the Maynard 200 Fellowship Media Entrepreneur Track
Led by Executive-in-Residence Dickson Louie, the Maynard 200 entrepreneurship track is designed to support fellows navigating the modern media landscape. As Principal of Louie & Associates and Lecturer at the University of California Davis Graduate School of Management, Louie has over 25 years of professional management experience within the news media industry. He brings veteran expertise as a planning and business development executive at the Los Angeles Times, the San Jose Mercury News and the San Francisco Chronicle.
"In this Maynard 200 media entrepreneur track, fellows learn the frameworks that will help increase the odds of their venture's success: discovering market opportunities, identifying business models, learning how to pitch ideas, setting goals, and leading a start-up team." Dickson Louie, Principal of Louie & Associates
In October 2022, Louie received a partial scholarship from IDEO U for their Activating Strategy course, in recognition of his work in co-creating the Summer Strategy Sessions for the Maynard 200 Media Entrepreneurship and Executive Leadership Tracks with Virgil Smith. The scholarship will allow Louie to receive the IDEO U "Human-Centered Strategy" certificattion. IDEO, the parent organization of IDEO U, is a global consulting firm and a pioneer in the concept of design thinking.
The Maynard 200 program is grateful to all members of the 2022 faculty and mentors. In addition to media entrepreneurship, the Maynard 200 program includes three other areas of focus for investigative storytellers, executive leaders, and frontline editors. Each track is led by accomplished industry veterans such as peabody award-winning journalist Aaron Glantz for investigative storytelling, former newsroom C-suite executive Virgil Smith for the leadership track, and senior editor John X. Miller for frontline editors and managers.
Maynard 200 will return in 2023
The Maynard 200 Fellowship program will continue next year in a hybrid virtual and in-person format hosted at the USC Annenberg School for Communication and Journalism in Los Angeles, California. Maynard 200 fellows will benefit from tuition-free training and mentorship, plus air travel and lodging expenses will be covered by the Maynard Institute. Subscribe to our newsletter for the call for applications coming soon!