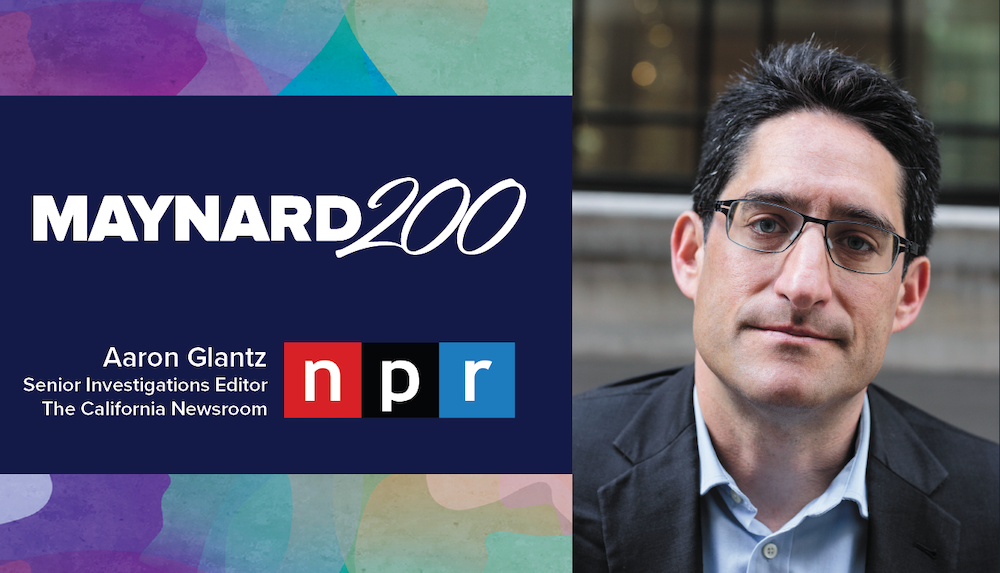 In 2022, two-time Peabody Award-winner Aaron Glantz returns as executive-in-residence for the Maynard 200 fellowship program's investigative storytelling track. Glantz currently serves as Senior Investigations Editor for The California Newsrooms, a collaboration of California public radio stations such as NPR and CalMatters. His work has appeared in The New York Times, Chicago Tribune, NBC Nightly News, Good Morning America and the PBS NewsHour. A former senior reporter at Reveal from The Center for Investigative Reporting and a recent JSK Fellow at Stanford, his books include 'Homewreckers,' 'The War Come Home' and 'How America Lost Iraq.'
One of the Maynard Institute's core programs, the Maynard 200 Fellowship provides advanced, tuition-free training to mid-career journalists of color. With the supportive peer network, Maynard 200 fellows have the opportunity to grow the impact of their work while helping diversify institutional and entrepreneurial news organizations.
"As track executive-in-residence for Investigative Storytelling, my first priority is to foster this sense of community and build a strong network of support." Aaron Glantz, Senior Investigations Editor, The California Newsroom (NPR, KQED, KPCC, KCRW, KPBS, CapRadio, CalMatters)
"What I love most about the Maynard 200 Fellowship is the way it builds community among dynamic journalists of color, who are just ready to break out and change the world," Glantz said. "These last two years have been incredibly rough and people all across America often feel isolated and alone. As track executive-in-residence for Investigative Storytelling, my first priority is to foster this sense of community and build a strong network of support."
Finding a community of peers and mentors
"Many fellows come to Maynard 200 as the only Black, Latino, or Asian journalists in their newsroom. By the end of the program, they leave part of a community of rising media professionals," Glantz said.
Glantz explained how fellows are "trained by some of the best investigative journalists in the business and paired 1:1 with a mentor who is selected specifically to help them fly. Last year's mentors included journalists – from the New York Times and Washington Post, CNN and NPR, ProPublica and The Marshall Project – all united in their determination to bring change in our industry and empower audiences in the communities we serve."
"These mentor relationships not only help the Maynard fellows take the next steps in their career, they also build a fabric of connectivity of talented journalists of color within the media, building resilience and making the changes we seek in the media more sustainable."
The investigative storytelling curriculum's impact
As returning faculty, Glantz has seen the positive impacts of the Maynard 200 fellowship program. "This is my second year as track executive-in-residence for Maynard 200 and I am just blown away by both the talent of the fellows, the power of the community it creates and the difference that community can make in propelling their careers," Glantz said.
"I look at the talent these fellows have when they come in and see the tremendous difference the Maynard 200 fellowship can make in helping them overcome barriers. Throughout the year-long program, nearly every investigative storytelling fellow went through a job change or received a promotion."
Every track of the fellowship program includes training sessions and hands-on workshops on best practices. The investigative storytelling curriculum is designed to provide journalists with the tools they need to succeed.
"My goal in constructing the fellowship track is to arm these rising journalists of color with the tools they need to be the best investigative journalists in America — from filing public records requests and analyzing data, to developing relationships with vulnerable sources, confronting the powerful, and taking care of their mental health."
Some of the confirmed faculty for this year's investigative storytelling track include:
A.C. Thompson of ProPublica and FRONTLINE (Polk Award-winner)
Emmanuel Martinez of The Markup (Pulitzer Finalist)
Monique Madan of USA Today
Kari Cobham, director of journalism fellowships for the Carter Center.
Plus, Mark Walker, a Maynard 200 fellow from Class of 2021 will lead a Freedom of Information Act workshop. During the Maynard 200 fellowship, Walker was part of two Pulitzer Prize-winning teams at the New York Times.
More about Maynard 200 Faculty and Mentors
The Maynard 200 program is grateful to all members of the 2022 faculty and mentors.
Over 60+ executives in media and other relevant disciplines participate in the Maynard 200 program. Their expertise and representation mirror that of our fellows – of diverse heritage, geography across the United States and globally, affiliation at mainstream and ethnic media outlets as well as entrepreneurial ventures.
In addition to investigative storytelling, the Maynard 200 program includes three additional areas of focus for media entrepreneurs, executive leaders, and frontline editors. Each track is led by accomplished industry veterans such as media strategist Dickson Louie for media entrepreneurship, former newsroom C-suite executive Virgil Smith in executive leadership, and senior editor John X. Miller for frontline editors and managers.
The program supports and emboldens the next generation of storytellers, leaders, managers, creators and founders of new media ventures. Check out the video greetings from the 2021 Fellows, the award recipients from the media entrepreneurship track, and the recap of the recent plenary fireside chat featuring Los Angeles Times executive editor Kevin Merida.
Watch the Maynard 200 "Ask Me Anything" Webinar
Interested in applying for Maynard 200 but have questions? Watch Maynard 200 Program Director, Odette Alcazaren-Keeley and alumni guest speakers as they gave a special FAQs webinar (Passcode: 81%PueT1) to learn more about the fellowship program.
Get key information about this year's program and insights to make your application competitive. Hear directly from alumni about their fellowship experience, which they consider transformative in their media careers and entrepreneurial ventures.
This webinar was designed for investigative reporters, executive leaders, media entrepreneurs, and frontline editors and managers, who are interested in Maynard 200.
The webinar covered:
Program eligibility requirements
Tips for a successful application
Curriculum and 1:1 mentorship benefits
Networking opportunities and more!
Watch the webinar (Passcode: 81%PueT1) and we look forward to seeing you there.
The deadline to apply for Maynard 200 was March 28, 2022. Applications are now closed.