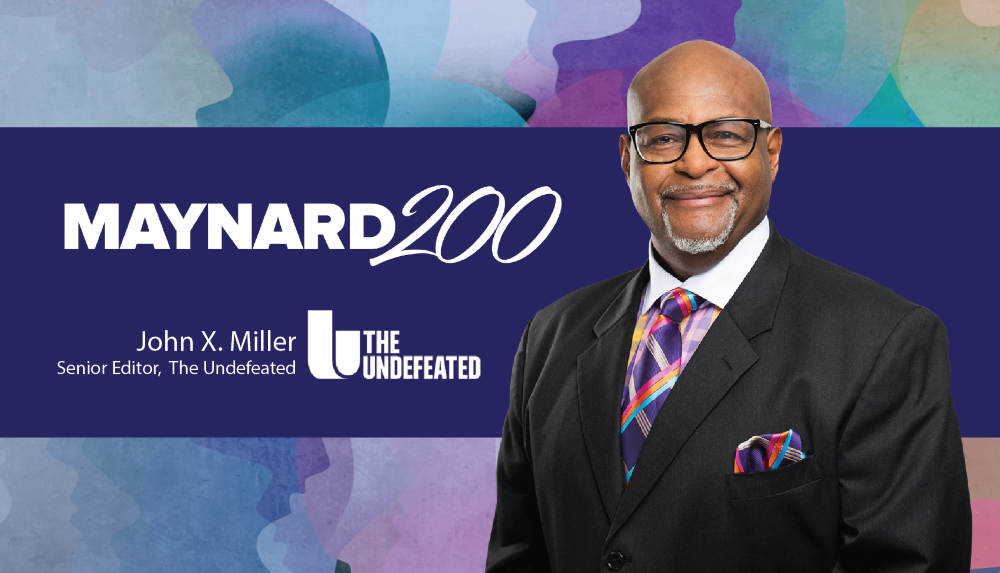 In 2022, the Maynard 200 program expanded to add a fourth track of curriculum designed for frontline editors and managers, which will be led by John X. Miller. With over forty years of media experience, Miller is a veteran journalist and currently the senior editor for news, commentary and HBCUs for The Undefeated, ESPN's website that reports on the intersection of race, sports and culture.
"Today's newsrooms require high-performing editors and managers to keep pace with the frenetic multimedia news cycle. Editing the news, managing teams, juggling tasks and maintaining work-life balance are such a challenge. The Maynard 200 Frontline Managers and Editors track will provide the fellows with the relevant training, curricula, mentorship and hands-on coaching that will equip them to excel as multimedia professionals." John X. Miller, Senior Editor, The Undefeated
Miller is joining the Maynard 200 Fellowship faculty, in addition to his role as the chairman of the Maynard Institute's board of directors. One of the Maynard Institute's core programs, the Maynard 200 Fellowship provides advanced, tuition-free training to mid-career journalists of color to prime them as candidates for higher leadership roles. As industry leaders, Maynard 200 fellows have the opportunity to change the management culture including hiring practices in institutional and entrepreneurial news organizations.
"What excites me the most about being executive-in-residence for this track is the opportunity to work alongside these amazing journalists as they gain the practical tools, knowledge and confidence that will accelerate their careers," Miller said. "The Maynard Institute has always been about assembling people of diverse backgrounds and experiences to elevate the practice of journalism in the increasingly diverse world. They will gain confidence and knowledge, discover peers and mentors they can rely on and become personally empowered to lead their organizations. They will be transformed."
New Curriculum for Frontline Editors and Managers
The training sessions and hands-on workshops will explore successful management styles, resilient leadership, team building, and effective strategies for navigating newsroom dynamics.
The deadline to apply for Maynard 200 was March 28, 2022. Applications are now closed.
Who is encouraged to apply:
Editors, with one to five years of experience, including assigning editors both print and online; assignment editors and executive producers in broadcast who supervise either in-house reporters, writers, and producers or freelancers or both.
Mid-level managers, with one to five years of experience, who may or may not have direct reports, but hold strategic leadership or communications roles in their newsrooms or media organizations.
More about Maynard 200 Faculty and Mentors
The Maynard 200 program is grateful to all members of the 2022 faculty and mentors. Over 60+ executives in media and other relevant disciplines participate in the Maynard 200 program. Their expertise and representation mirror that of our fellows—with diverse heritage, geography, affiliation at mainstream and ethnic media outlets as well as entrepreneurial ventures.
In addition to frontline editors and managers, the Maynard 200 program includes three additional areas of focus: media entrepreneurship, executive leadership and storytelling. Each track is led by accomplished experts, and this year we are privileged to have media strategist Dickson Louie for media entrepreneurship, former newsroom C-suite executive Virgil Smith in executive leadership, and award-winning investigative reporter and author Aaron Glantz for storytelling. Dickson Louie and Virgil Smith serve on the institute's board of directors as well.
Watch the Maynard 200 "Ask Me Anything" Webinar
Interested in applying for Maynard 200 but have questions? Watch Maynard 200 Program Director, Odette Alcazaren-Keeley and alumni guest speakers as they gave a special FAQs webinar (Passcode: 81%PueT1) to learn more about the fellowship program.
Get key information about this year's program and insights to make your application competitive. Hear directly from alumnae about their fellowship experience, which they consider transformative in their media careers and entrepreneurial ventures.
This webinar was designed for investigative reporters, executive leaders, media entrepreneurs, and frontline editors and managers, who are interested in applying to the Maynard 200 Fellowship program.
The webinar covered:
Program eligibility requirements
Tips for a successful application
Curriculum and 1:1 mentorship benefits
Networking opportunities and more!
The deadline to apply for Maynard 200 was March 28, 2022. Applications are now closed.