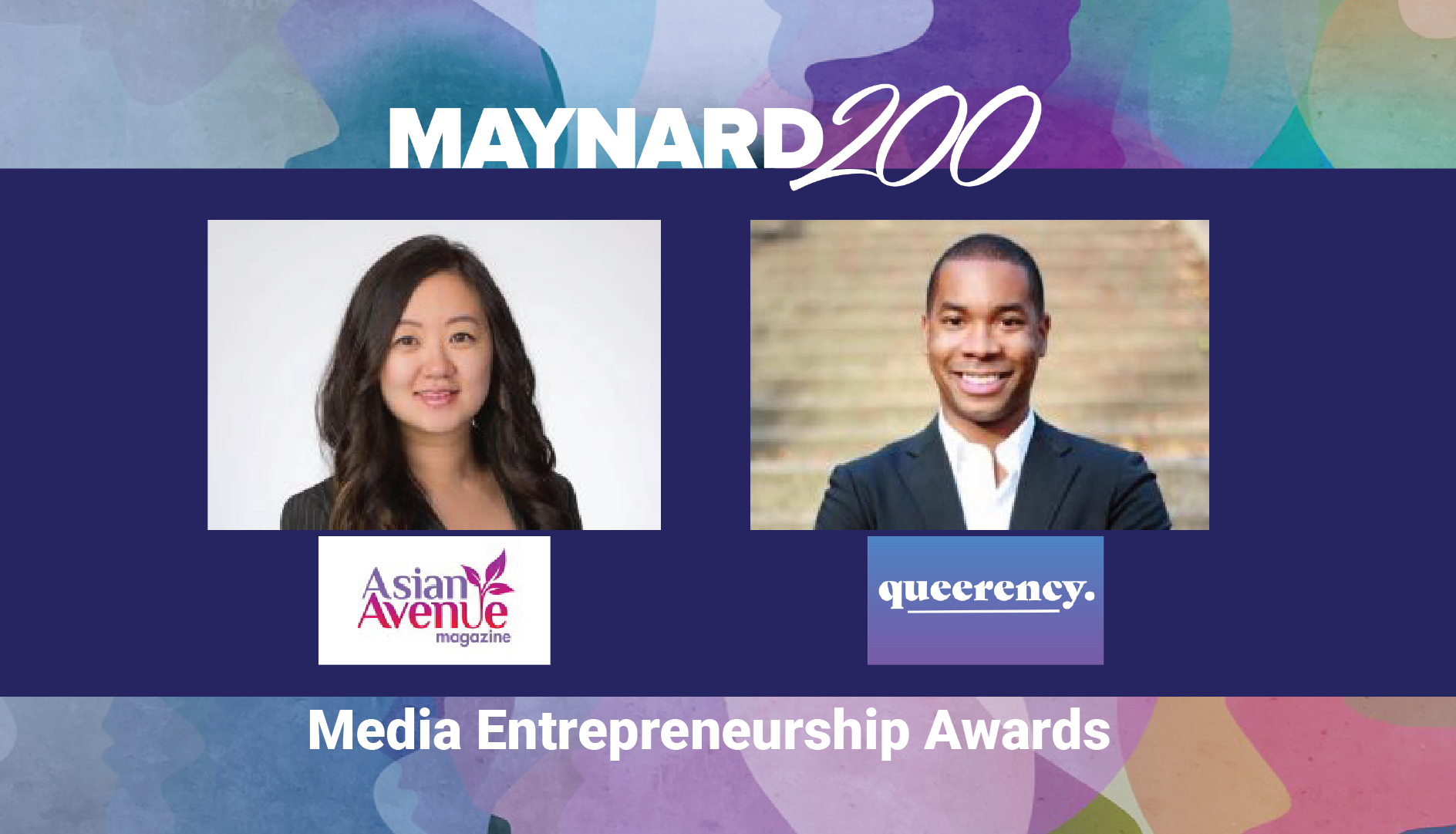 One of the Maynard Institute's core programs, the Maynard 200 Fellowship supports the next generation of storytellers, leaders and entrepreneurs of diverse backgrounds. The program provides relevant training courses, resources and mentorship by distinguished media professionals. In 2021, media strategist Dickson Louie led the media entrepreneurship track and launched a new award program. Based on the scores from a panel of media business experts, two fellows, Travers Johnson, founder of Queerency and Annie Guo VanDan, co-founder of Asian Avenue Magazine, have been recognized for their outstanding media venture pitches.
About the Maynard 200 Media Entrepreneurship Awards
The Quentin Hope Metrics Award in Entrepreneurship is a $1,000 prize funded by the Maynard Institute. It honors a teacher and coach, Quentin Hope, who guided co-executive directors Martin Reynolds and Evelyn Hsu in growing the reach and revenue of the institute. The prize is awarded to the media project business plan that scores highest for sound strategies and rigorous metrics.
The Dori J. Maynard Media Entrepreneurship Award honors the late president of the Maynard Institute and is funded by the Maynard Institute through a donation from Dickson Louie. The award provides up to $1,000 in additional entrepreneurial training through IDEO U, or an equivalent training entity, approved in advance by the Institute, to the media project that receives the highest cumulative score from the outside judges.
Congratulations Media Entrepreneurship Award Winners
Quentin Hope Metrics Award
Annie Guo VanDan is the recipient of this year's Quintin Hope Metrics Award, which recognizes her work as president of Asian Avenue magazine, a Denver-based publication that lifts up the stories and voices of Asian American Pacific Islanders (AAPIs). She began the publication in 2006 at age 20 in collaboration with her mother, a first-generation immigrant from Taiwan.
With a Journalism degree from the University of Missouri, Annie worked in marketing and communications roles with Procter & Gamble, The Integer Group and the Colorado Department of Public Health & Environment.
She found her passion in health equity and community engagement work and is also a change specialist for Change Matrix, where she works with diverse communities to provide training and technical assistance on racial justice, equity and inclusion. In 2009, she founded the Colorado Asian Culture and Education Network, a 501(c)(3) that serves the state's AAPI community.
She completed her MBA in Health Administration from the University of Colorado Denver in 2012 and lived briefly in San Diego before returning to Denver, her hometown. She enjoys hiking, playing tennis and spending time with her husband and their two daughters.
Dori J. Maynard Media Entrepreneurship Award
Travers Johnson received the highest overall score as founder and editor in chief of Queerency, a digital media company that highlights the best in queer business. He has more than 12 years of experience in digital media, print publishing and email marketing at some of the world's leading companies, including Penguin Random House, Edelman and BET.
A writer and editor based in Austin, Travers was trained at Morehouse College and Georgetown University and is passionate about helping people tell their stories across various mediums.
Apply to Join the Maynard 200 Kick-off in Los Angeles
The 2022 program will be held in-person during the week of June 27th at the USC Annenberg School for Communication and Journalism in Los Angeles, California. Maynard 200 fellows will benefit from tuition-free training and mentorship, plus air travel and lodging expenses will be covered by the Maynard Institute.
The deadline to apply for Maynard 200 is March 21st. Space is limited. Submit your application today!