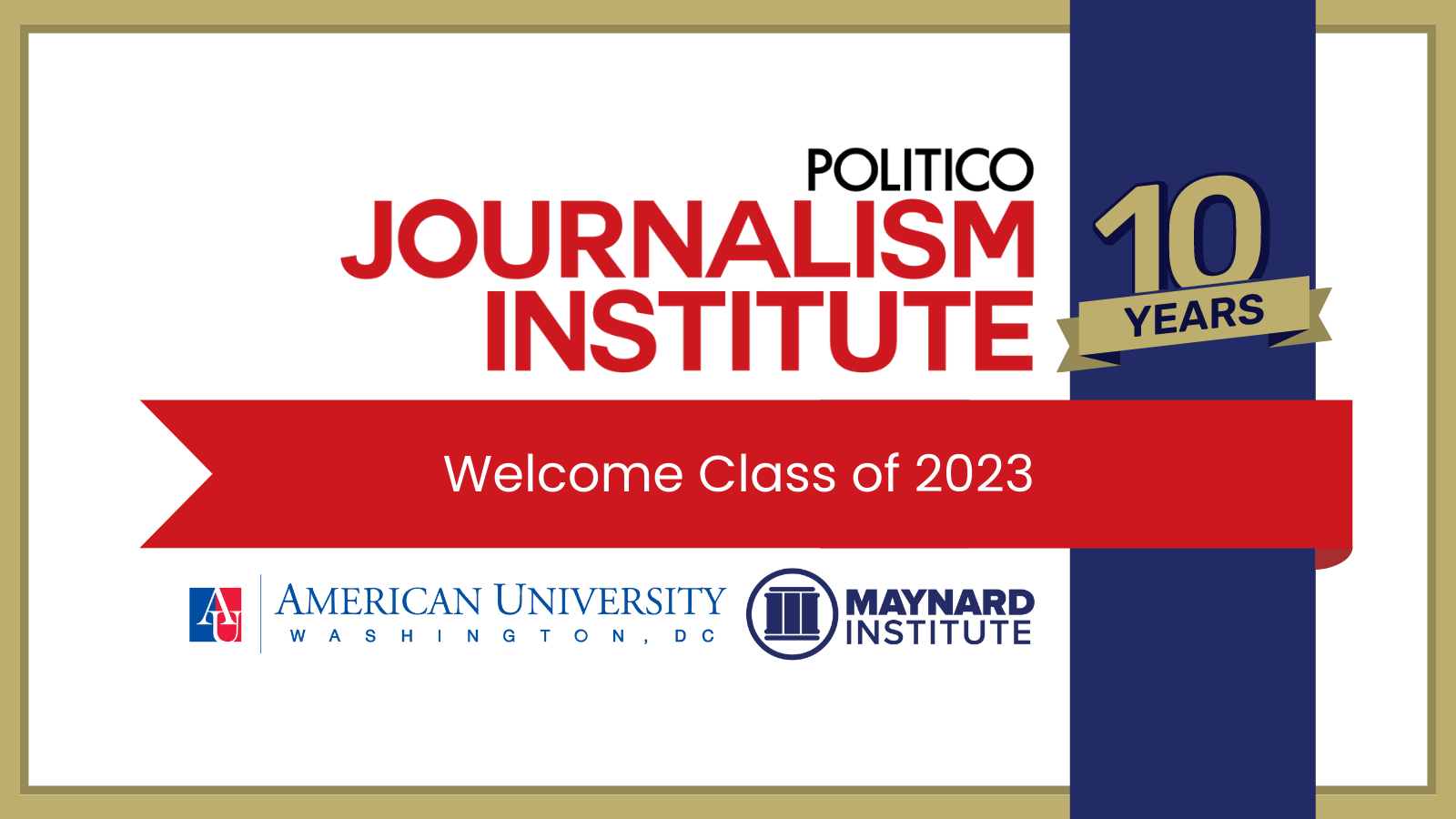 The POLITICO Journalism Institute (PJI) announced its 10th cohort in partnership with the Maynard Institute and American University. The program is designed to provide hands-on training and experience for college students interested in pursuing a career in political journalism.
One of the primary goals of PJI is to promote diversity in the field of political journalism, and the Maynard Institute has been a longstanding and critical partner of the program. The program seeks to attract students from a wide range of backgrounds and experiences. In particular, PJI aims to encourage students from underrepresented communities to apply.
The program is highly competitive, with only a select group of students chosen each year from a large pool of applicants. Students who are accepted attend an intensive two-week training course at American University in Washington, D.C. and the POLITICO newsroom in Arlington, Va., where they learn about the intricacies of political journalism from some of the best in the field. This year, some students will participate from POLITICO's bureaus in Sacramento, Calif., and New York City.
"The Maynard Institute is proud to be a founding and continuing partner in the POLITICO Journalism Institute as it increases opportunities for students who represent a cross-section of this country and the full range of its colleges and universities," said Evelyn Hsu, institute co-executive director. "Congratulations to our alums and partners on this 10th anniversary."
PJI has been highly successful in helping students launch careers in political journalism. Many graduates of the program have gone on to work at major news outlets, including POLITICO itself. Others have landed jobs at newspapers, magazines, and broadcast media organizations across the country.
Overall, the POLITICO Journalism Institute is a valuable resource for aspiring political journalists who are looking to gain real-world experience and learn from some of the best in the business. By providing students with the skills, knowledge, and connections they need to succeed, PJI, American University and the Maynard Institute are continuing to shape the future of political journalism in the United States and beyond.
Congratulations to the POLITICO Journalism Institute's 2023 Class!
Based in Washington, DC:
Punya Bhasin – University of Pittsburgh
Monica Carrillo-Casas – University of Idaho
Leah Clark- Xavier University of Louisiana
Kate Corliss – American University
Rocio Fabbro – New York University
Olivia Gyapong - University of Missouri
Rachel Hale – University of Wisconsin
Jacqueline Hernandez – University of Richmond
Melina Khan - Quinnipiac University
Simon Levien – Harvard University
Ayah Mahana – George Washington University
Ifeoluwa Olatona – Howard University
Juan Pablo Lopez - University of Central Florida
Daryl Perry – University of Maryland
Keara Shannon – University of Missouri
Kacie Yamamoto – University of Southern California (USC)
Based in California:
Annie Bang – University of Southern California (USC)
Saliha Bayrak – University of Massachusetts at Amherst
Layla Brown Clark – DePauw University
Forest Hunt – Evergreen State College
Based in New York:
Kyla Guilfoil – Manhattan College
Meghana Kakubal – New York University
Tori Morales Pinales – New York University
John Underhill - University of Massachusetts at Amherst
Read the POLITICO press release.
About the Maynard Institute for Journalism Education
For 45 years, the Maynard Institute has fought to push back against the systemic lack of diversity in the news industry through training, collaborations and convenings. Founded by Robert C. Maynard, the Institute promotes diversity and antiracism in the news media through improved coverage, hiring and business practices. We are creating better representation in U.S. newsrooms through our programs , which gives media professionals of color the tools to become skilled storytellers, empowered executives and inspired entrepreneurs. Visit the Maynard Institute website to learn more.