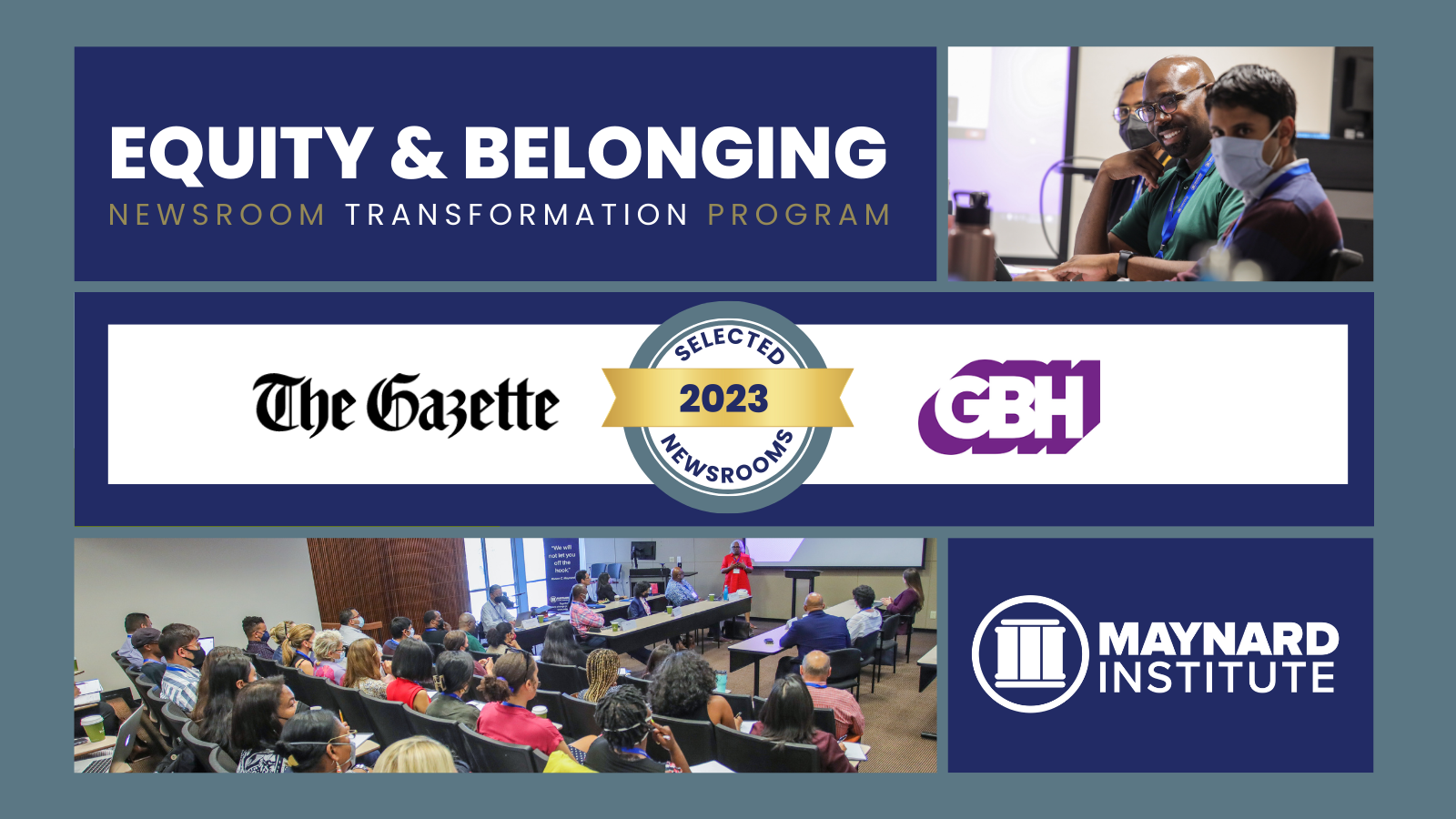 FOR IMMEDIATE RELEASE — Oakland, Calif. (February 17, 2023): The Robert C. Maynard Institute for Journalism Education, a nonprofit dedicated to expanding diversity in the news media and dismantling structural racism in newsrooms, announced today the news organizations selected to participate in the Equity and Belonging Newsroom Transformation Program are The Gazette in Cedar Rapids, Iowa, and GBH News in Boston.
The pilot program, funded by the John S. and James L. Knight Foundation, pairs news organizations with consultants who have a wealth of experience training journalists on diversity, equity, inclusion and belonging (DEIB) issues. The goal is to help transform workplace structures, organizational cultures and news coverage to be more inclusive and reflective of the United States.
"With this pilot, we're trying to see if we can operationalize the concept of belonging," said Martin G. Reynolds, co-executive director of the Maynard Institute. "This is very challenging work because it requires an individual and collective unwinding of internalized biases and perceptions that have made news organizations toxic places for so many, particularly people of color. We see this work as a journey. What's exciting about working with The Gazette and GBH News is that each organization is starting at a different place along this journey and we are excited to work with our consulting teams to help them make significant progress."
Celebrating its 140th year in continuous operation, The Gazette is an employee-owned newspaper with 30,000 daily subscribers. Based in Cedar Rapids, the second-largest city in the state of Iowa with a population of 138,000 residents, The Gazette also covers Iowa City, which is home to the University of Iowa. The communities range from a mix of industrial employees and a sizable refugee population from Sudan.
"We are focused on local enterprise news that looks to solutions rather than just pointing out problems," said Zack Kucharski, executive editor and employee owner of The Gazette. "We know that we can improve in representation on the staff and in coverage practices to best reflect the diversity of our community, while also working to give these populations a voice and build trust."
The Gazette, which has participated in previous diversity programs, applied to the Maynard Institute's pilot program to gain momentum in order to transform their newsroom culture and business practices. As part of the pilot program's embedded consultant model, The Gazette will be paired with a group of DEI experts based in Southern California, from CRB Global & Rich Diversity Consulting.
"We are excited to take a team-wide approach, as there are challenges across many of the topical areas that we cover, and we need everyone thinking about this," Kucharski said.
"Working to build norms and benchmarks and have consistent practices will also allow us to measure progress, and that's an important piece of making this part of the culture of the organization," he said.
Similarly, GBH News is invested in sustained cultural change. Located in Boston, GBH is the leading multiplatform creator for public media in the United States as the largest producer of content for PBS and partner to NPR and PRX. The vision of GBH News, which reaches more than 400,000 people weekly across all platforms, is to transform into one cohesive, audience-focused news organization by creating an anti-racist, radically inclusive and culturally responsive newsroom without walls to better serve an increasingly diverse and curious population. A team of DEI consultants who represent Global Equity Collective will help GBH News work toward that goal.
"We re-envisioned our beat structure to create distinct local stories of the day in collaboration with a wider audience," said Lee Hill, executive editor for GBH News. "By 2027, our newsroom will closely mirror the city of Boston, which is rapidly changing demographically. Internally, we have to ensure that we are culturally responsive. We created two working groups focused on equitable professional development and belonging.
"In 2022, GBH News began a mandatory Source Diversity Survey," Hill said. "As part of this, our journalists ask each person we interview questions about their race, gender, age, location to ensure that GBH News becomes more infused and informed by the diverse communities we serve."
Felecia D. Henderson, director of cultural competency at the Maynard Institute, said the Equity and Belonging Newsroom Transformation Program will provide an opportunity to meet each news organization where they are in their current cultural journey and lead them toward sustainable, equitable change.
"We are excited to partner with The Gazette and GBH News to give them the tools that will have lasting impact inside their organizations and with their communities," Henderson said.
About the Maynard Institute for Journalism Education
For 45 years, the Maynard Institute has fought to push back against the systemic lack of diversity in the news industry through training, collaborations and convenings. Founded by Robert C. Maynard, the Institute promotes diversity and antiracism in the news media through improved coverage, hiring and business practices. We are creating better representation in U.S. newsrooms through our programs , which gives media professionals of color the tools to become skilled storytellers, empowered executives and inspired entrepreneurs. Visit the Maynard Institute website to learn more.
Questions?
CONTACT:
Felecia D. Henderson
Director of Cultural Competency, Maynard Institute
fhenderson@mije.org
Martin G. Reynolds
Co-Executive Director, Maynard Institute
mreynolds@mije.org
Read the press release on PRWeb.