Media Contact
Odette Alcazaren-Keeley
Director, Maynard 200-MIJE
okeeley@mije.org / 650-455-3063

EMERYVILLE, CA — The Maynard Institute for Journalism Education [MIJE] will hold its signature Maynard 200 fellowship program in 2021, starting with a virtual training week April 12-16.
The second training week is scheduled November 8-12 and may be in-person, depending on public health protocols related to the COVID-19 pandemic.
The program is tuition-free thanks to funding by Google News Initiative, Craig Newmark Philanthropies and The Wunderkinder Foundation. Some travel support will be available for the second training week if it is in person.
The Maynard 200 fellowship provides cutting-edge training and year-long mentorship for leaders, storytellers and media entrepreneurs of diverse backgrounds via the expertise of a distinguished faculty across relevant disciplines. The program supports and emboldens the next generation of leaders, creators and founders of new media ventures.
"We are fortunate to have top executives, well-known journalists and news leaders, outstanding business strategists and leading academics as members of our program faculty and as mentors," said Evelyn Hsu, co-executive director of the institute and chief architect of Maynard 200. "They are a generous and dedicated group that has made Maynard 200 a top training program."
MIJE co-executive director Martin G. Reynolds said, "The fellows represent the future of our industry. Given where we are now as a nation, their perspectives, influence, passion, skill and creativity are essential as they seek to ascend to top leadership roles, create nuanced journalism and start new media enterprises that will help shape the journalistic landscape in the years to come. This program is as much about building up the person as it is about supporting the work they do. It is an honor to see them flourish."
"Our program's mission, built on the reinvigoration of the diversity pipeline in media, is now sharpened by the triple crises of our time: the public health and economic devastation of the global pandemic, America's racial reckoning and deep societal fractures laid bare again by the 2020 vote," said Odette Alcazaren-Keeley, Maynard 200 director. "Responding to these seismic shifts, Maynard 200 continues to bolster the authentic voice, leadership power and change agency of professionals of color."
Candidates can apply for one of three tracks — Storytelling, Advanced Leadership and Media Entrepreneurship.
The application period opened last year, and the new extended deadline is March 5, 2021.
Fellows are required to attend both training weeks and to participate in the year-long mentorship and supplementary courses.
Since 2018, Maynard 200 has trained 49 media professionals representing African American, Latino, Asian American, Native American and Middle Eastern communities; mainstream and ethnic media organizations, and entrepreneurial ventures from various regions of the United States.
Included are fellows from The New York Times, Los Angeles Times, Mother Jones, CNN, theGrio, Associated Press, The Washington Informer, Mundo Hispano Digital Network, LinkedIn, Nieman Journalism Lab, ABS-CBN international — The Filipino Channel, Sing Tao Daily, the Indigenous Media Freedom Alliance and many others.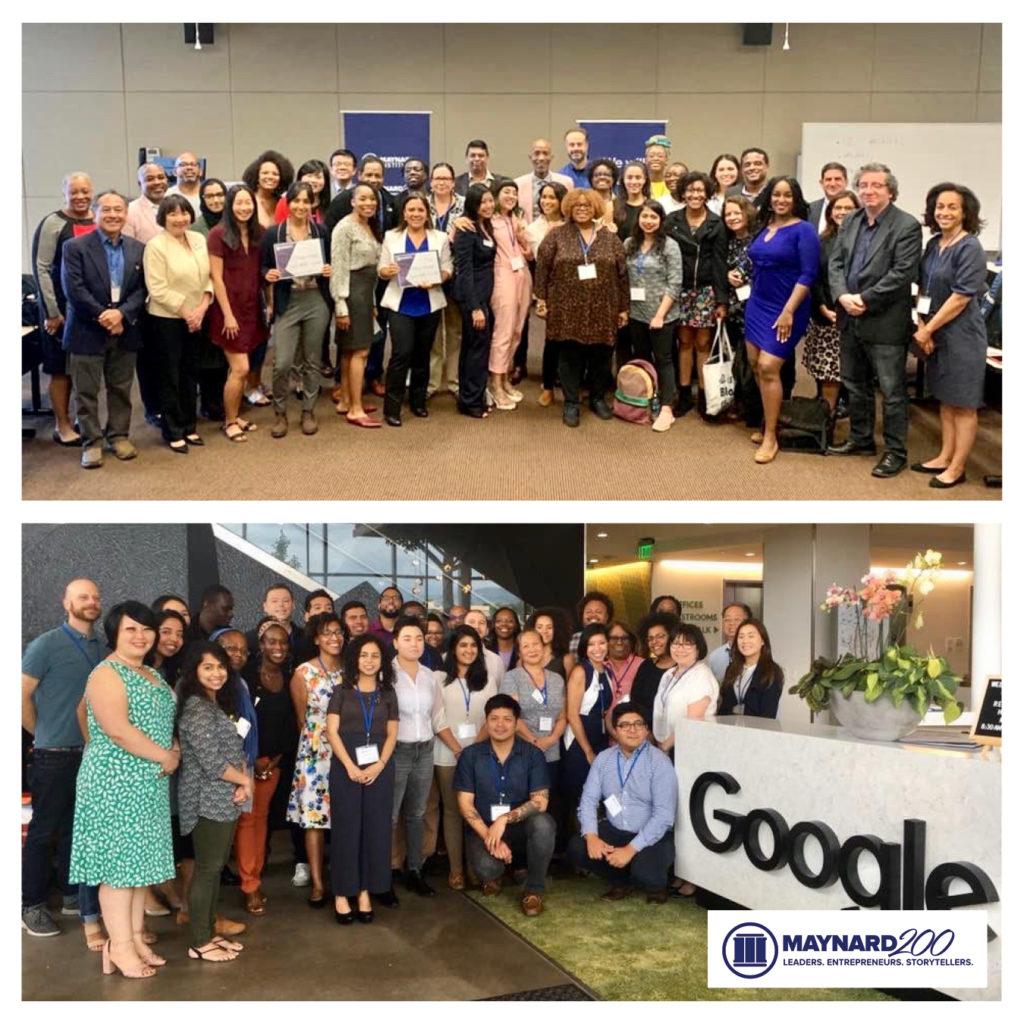 For more information about the Maynard 200 Fellowship, contact Maynard 200 Director Odette Alcazaren-Keeley at okeeley@mije.org.
ABOUT THE MAYNARD INSTITUTE FOR JOURNALISM EDUCATION
The Robert C. Maynard Institute for Journalism Education is the nation's oldest organization dedicated to helping the news media accurately portray all segments of society, particularly those often overlooked, such as communities of color. The media play a pivotal role in shaping our perceptions of each other. The distorted coverage of communities of color influences public policy and the decisions we make in our personal lives.