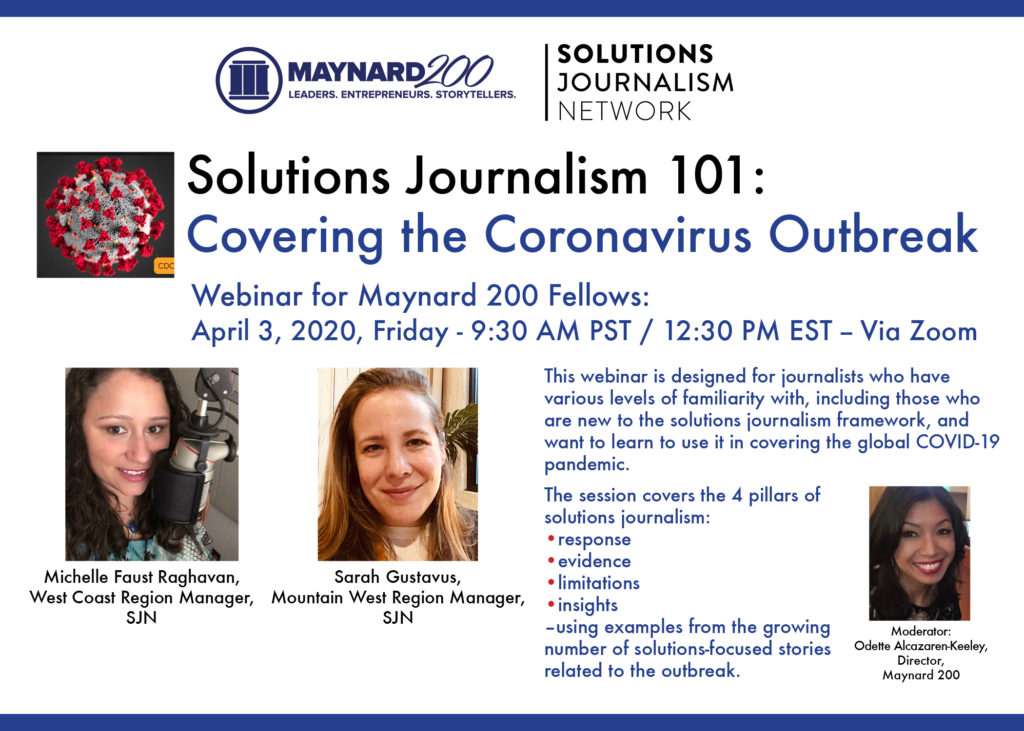 MIJE partnered with Solutions Journalism Network, which presented a webinar on April 3, on covering the COVID-19 pandemic. Fellows and alumni of the Maynard Institute's Maynard 200 and Oakland Voices programs attended and shared their own coverage of the public health crisis.The session: 'Solutions Journalism 101: Covering the Coronavirus Outbreak' was designed for journalists with varying levels of familiarity with the solutions journalism framework, and want to learn to use it in covering the pandemic.
Speakers Sarah Gustavus, Mountain West Region manager and Michelle Faust Raghavan, West Coast Region manager, both from SJN, discussed the 4 pillars of this framework. Solutions journalism is defined as "rigorous, evidence-based reporting on responses to social problems."
The session was organized and moderated by Odette Alcazaren-Keeley, Maynard 200 director, who opened the discussion with a global and national situationer on the outbreak. She quoted latest data at the time of the webinar, on COVID-19 infections, deaths and shelter-in-place orders, including from the Johns Hopkins University Center for Systems Science and Engineering, the CDC and the New York Times. This session is part of a series of webinars to be offered to Maynard Institute fellows, alumni and its broader media community to provide information, perspectives and resources amid the pandemic.
For more information regarding the Maynard 200 journalism fellowship and this webinar: contact: Odette Alcazaren-Keeley @ okeeley@mije.org