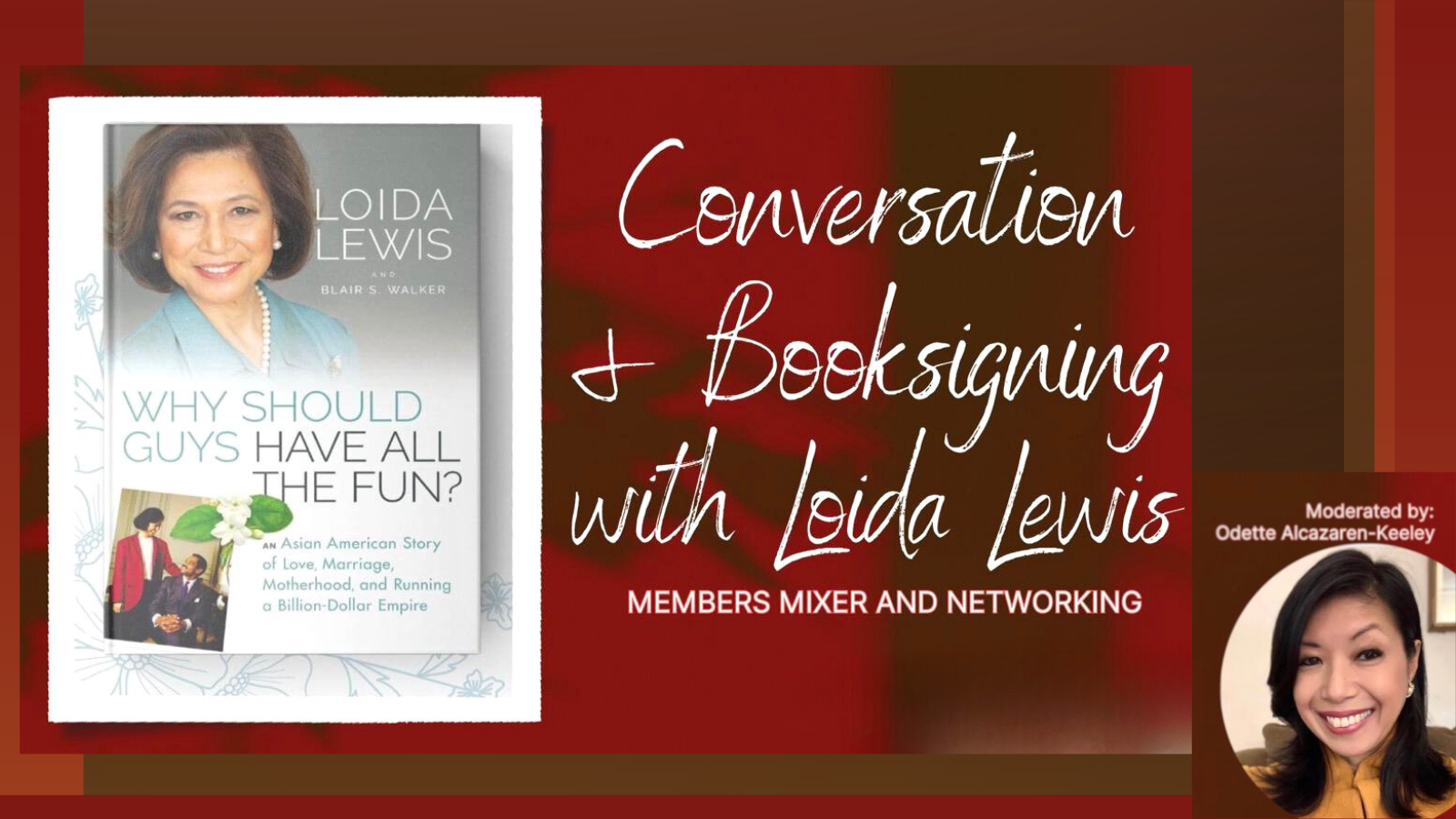 Join event moderator and Maynard 200 Fellowship Director, Odette Alcazaren-Keeley on Thursday, April 20, in conversation with Filipina powerhouse Loida Nicolas Lewis. Lewis has emboldened the Filipino-American diaspora for decades, as a long-standing ally of initiatives amplifying their political and entrepreneurial impact. In her upcoming book "Why Should Guys Have All the Fun?: An Asian American Story of Love, Marriage, Motherhood, and Running a Billion Dollar Empire," Lewis shares her journey, from her childhood in the Philippines to her career as a New York lawyer. Advance registration is required to attend this special event presented by the University of the Philippines Alumni Association of San Francisco.
About Loida Lewis
As the first Asian woman to own a billion dollar enterprise in the United States, Lewis is a respected community leader and philanthropist. When she took over as CEO of TLC Beatrice in 1994, a year after the untimely death of her husband, Reginald Lewis, the company made $1.65B in annual sales. Loida Lewis was named the top U.S. woman business executive by The National Foundation for Women Business Owners and earned the #2 spot and the cover of Working Woman Magazine's "50 Women Business Owners in America" in May 1996.
Lewis also became active in political causes, co-founding the [National Federation of Filipino-American Associations (NaFFAA)] in 1997, alongside publisher Alex Esclamado, lawyer Rodel Rodis, and recognized civic leader Gloria Caoile, with the goal to empower Filipino-Americans. Their founding conference in Washington D.C. was a historical first, with over 1,000 community leaders, high school and college students, young professionals, civil rights activists, and Filipino World War II Veterans in attendance. As Lewis spoke in front of the White House, she emphasized the importance of justice for veterans, encouraged the youth to fight for their 'lolos' and 'lolas' and to keep their legacy of heroism alive.
LOCATION: Sentro Filipino, 814 Mission Street, Mezzanine Floor, San Francisco, California
HOSTS: Sonia Delen and Rodel Rodis, Presented by the University of the Philippines Alumni Association of San Francisco
Books will be available on-site for purchase and author signing.
About Moderator Odette Alcazaren-Keeley
Odette Alcazaren-Keeley is a diversity communications and media executive, and currently serves as the director of the Maynard 200 journalism fellowship program of the Maynard Institute for Journalism Education. In 2022, she was the recipient of the Society of Professional Journalists, Northern California chapter, Unsung Hero Award and received recognition for her role as Director of the Maynard 200 Fellowship program, "one of the most powerful incubators for journalists of color in the country." Read her full bio.
*Reminder: Attendees must be registered to attend this in-person event.