Maynard 200 is the cornerstone program advancing the Maynard Institute's efforts to expand the diversity pipeline in news media and dismantle structural racism in its newsrooms. Since 2018, the Maynard Institute has trained over 90 media leaders, storytellers, and entrepreneurs through the fellowship program. In 2022, the program includes exciting updates such as an expanded cohort size, new curriculum track for frontline editors and managers, as well as the return to in-person convenings for two weeks, tentatively scheduled for late June and late October (adapting to COVID-19 safety protocols). We are now accepting applications through March 7, 2022. Apply today!
Deadline to apply is March 7th
Applications are now open!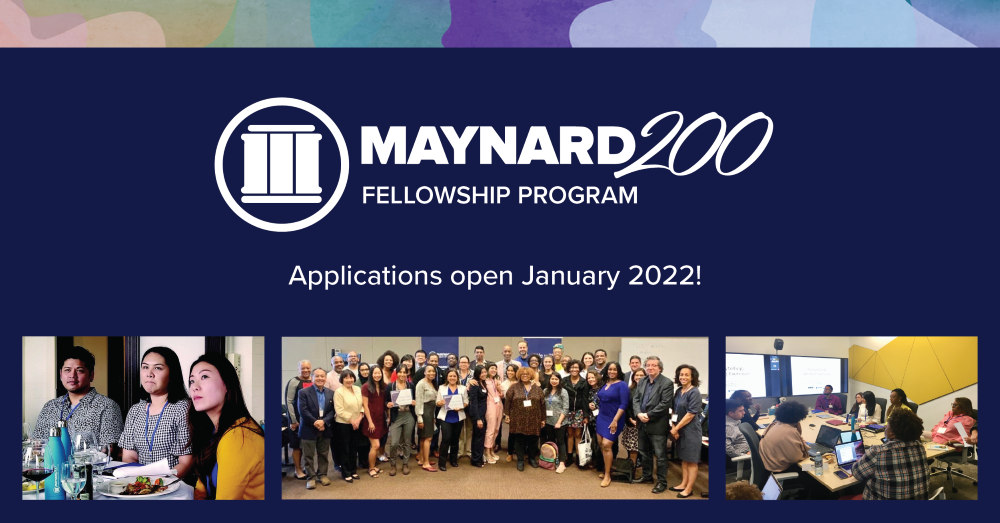 Program Overview
About Maynard 200
The Maynard 200 fellowship provides cutting-edge training and year-long mentorship for leaders, storytellers, frontline editors, and media entrepreneurs of diverse backgrounds via the expertise of a distinguished faculty across relevant disciplines. Fellows benefit from cutting-edge curricula designed and delivered by industry leaders and issue experts. Plus, each fellow gains one-to-one mentorship from a veteran media executive or expert that aligns with their relevant discipline.
Maynard 200 has been a tuition-free fellowship program through the support of our funders: Google News Initiative, Craig Newmark Philanthropies, The Hearthland Foundation and The McClatchy Foundation. The Fox Corporation is a confirmed sponsor for the 2022 program.
In 2022, the Maynard 200 Fellowship will be expanded to 50 fellows across the following curriculum tracks:
15 investigative storytellers
15 frontline editors and managers
10 executive leaders
10 media entrepreneurs
The program supports and emboldens the next generation of leaders, managers, creators and founders of new media ventures. Check out the video greetings from the 2021 Fellows, the award recipients from the media entrepreneurship track, and the recap of the recent plenary fireside chat featuring Los Angeles Times executive editor Kevin Merida.
New Track: Frontline Editors and Managers
Maynard 200 expands to add a fourth track for Frontline Editors and Managers
In 2022, the Maynard 200 program is expanding to add a fourth track designed for mid-level editors and managers. It will provide training for:
New editors, with one to five years of experience, including assigning editors both print and online; assignment editors and executive producers in broadcast who supervise either in-house reporters, writers, and producers or freelancers or both.

Mid-level managers, with one to five years of experience, who may or may not have direct reports, but hold strategic leadership or communications roles in their newsrooms or media organizations.
Some key sessions to be offered in the 2022 curriculum will include these or similar themes:
Success in Management
Resilient Leadership
Building Strong Teams
Effective Transition Strategies for New Editors
Difficult Conversations
Hands-on Editing workshops including Effective Coaching and Critiques
Newsroom Dynamics: How to Cope when You're the Lone Person of Color in the Room
Application Details
Applications are now open - apply today!
The Maynard 200 application deadline is March 7, 2022.
Applicants can select their preferred track and provide an updated resume, work samples, references, and more via the podio application portal. Space is limited. Applicants are encouraged to apply as soon as possible. Eligible applicants will be contacted during the selection process with more details in April.
Deadline to apply is March 7th
Applications are now open!
Applicants living outside the United States need to be affiliated with a U.S.- based media outlet or organization. Maynard Institute programs are open to all. We are committed to addressing the under-representation of people of color and other historically disadvantaged groups in media-related professions, and so we make special efforts to recruit individuals from these groups for our programs.
Tentative Dates and Location
Hoping to gather in person again in 2022!
The 2022 program is slated to be held in person for both training weeks. The training dates and meeting location are subject to change due to potential COVID-19 variant surges. The Maynard Institute will adapt to pandemic developments to protect the health of all participants. If necessary, the program sessions may pivot from in-person to virtual sessions. Whether in-person or virtual, Maynard 200 fellows are required to attend both weeks of training sessions, as well as fulfill all program components, in order to graduate from the program.
Tentative Meeting Dates
First Training Sessions: June 27 - July 1
Second Training Sessions: October 24 - October 28
Travel Subsidy
If Maynard 200 is able to gather in-person, flights and hotel accommodations for fellows will be paid for by the Maynard Institute. Fellows will also be provided a small stipend for ground transportation costs.
COVID-19 Protocols
The M200 Fellowship will follow all pandemic protocols required by our host venue, and adhere to local and federal public health guidelines.
If there are any participants who cannot meet pandemic public health requirements due to medical or religious reasons, participating virtually for in-person training rounds may be an option.
Questions?
For more information about sponsoring the Maynard 200 Fellowship or program eligibility, please reach out to: Maynard 200 Director, Odette Alcazaren-Keeley at okeeley@mije.org.
Donate to Support Maynard 200 Fellows
Your donations enable us to continue expanding diversity in newsrooms.