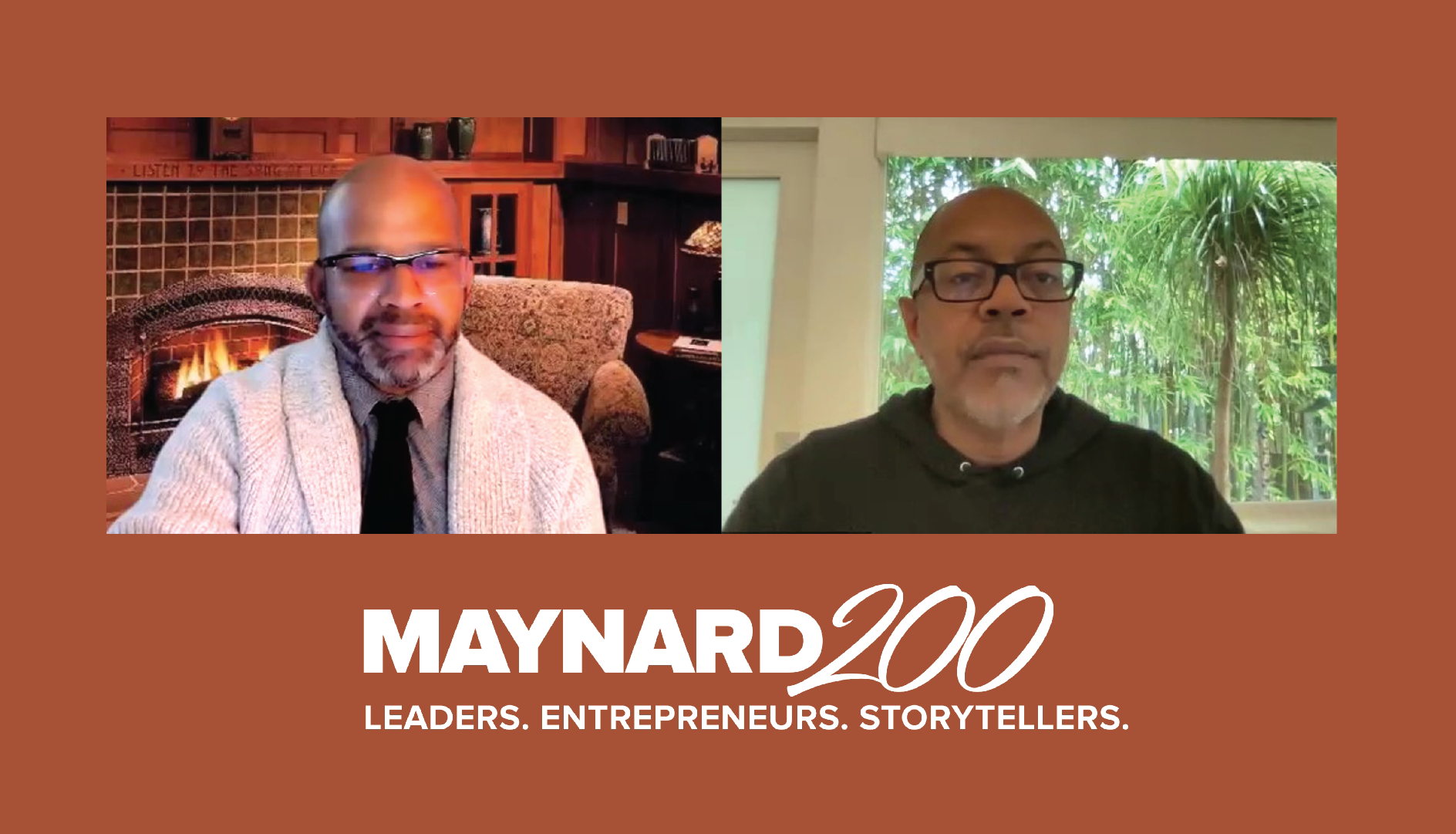 In October, the 2021 cohort of Maynard 200 fellows gathered for week-long intensive training sessions joined by more than 60 executive level faculty and mentors whose caliber mirror back the wide representation of our fellows of diverse heritage and geography affiliation at mainstream and ethnic media outlets across disciplines and expertise. The convening plenary kicked off with a fireside chat featuring Kevin Merida, executive editor of the Los Angeles Times and Maynard Institute board member.
How Maynard 200 is meeting the moment
Maynard 200 Program Director, Odette Alcazaren-Keeley, helped set the tone for the keynote session by describing the high stakes facing Maynard 200 fellows today.
"In a climate where local journalism is under threat– in the print sector alone – today half of all daily newspapers in the United States are controlled by financial firms. For example, The Atlantic's recent cover story points to newsrooms being gutted by hedge fund Alden Global Capital," she said.
One of the Maynard Institute's core programs, the Maynard 200 Fellowship provides advanced training to mid-career journalists of color to prime them as candidates for higher leadership roles. As industry leaders, Maynard 200 fellows have the opportunity to change the management culture including hiring practices in institutional and entrepreneurial news organizations.
"We look to our legacy values and groundbreaking work at the Maynard Institute, rooted in trust equity and belonging to change the culture and American media. And all of you, the voices of our fellows resound. We stand together with you in your work in defending the soul of our democracy," Alcazaren-Keeley added.
Maynard Institute Co-executive director Evelyn Hsu addressed the group, thanking Merida and all the faculty for their support. Detailing the ways the Maynard family survives through the graduates of programs like Maynard 200.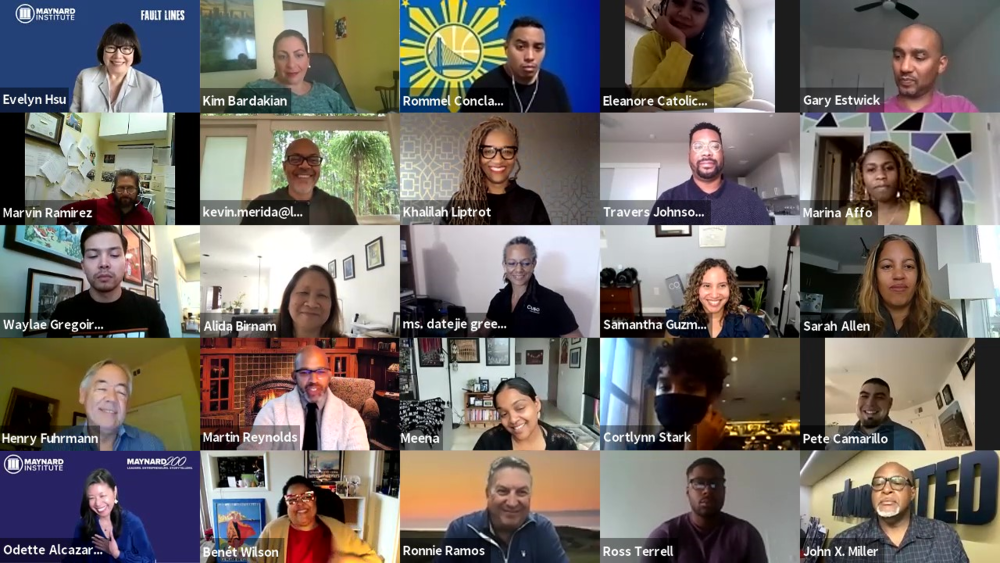 Looking back on Merida's career journey
In conversation with Maynard Institute's co-executive director Martin Reynolds, Merida shared insights from his journalism career, from his earliest days to today as executive editor of the Los Angeles Times, the largest news gathering organization in the Western United States.
"It's certainly nostalgic just listening to Evelyn talk about the history. Evelyn and I were classmates in the Maynard Instute's 1979 summer program. And with that pioneering spirit that Bob Maynard had, it's really important to remember history and how far we've come."
Merida reflected on his journey in relation to Robert C. Maynard's journey as well.
"This program is why I feel so close to Maynard and this family. It really helped shape my career as one of the most important experiences of my life. We were celebrating our graduation in 1979 from the program but also Bob Maynard's ascension to be the first African American editor in our country's history at the Oakland Tribune."
Merida would later become the first Black managing editor of the Washington Post, before becoming senior vice president at ESPN and editor-in-chief at The Undefeated.
The role of technology in shaping journalism today
When Reynolds asked for thoughts on trends in journalism, Merida suggested that the digital revolution has evolved to the point where technology is now a major driver in the industry. He explained that journalists fluent in technology have the power to change industry conventions and storytelling as a whole for the better.
"We talk a lot about the digital revolution. I say we're all digital now, whatever medium you belong to, we're already in a digital environment. People said content is king and that's true. But technology is really king among kings because the way in which we are able to reach people and to drive different consumption habits. And in some ways, those consumption habits are driven by technology."
"So as journalism evolves and people who have grown up in the digital era have fluency that didn't previously exist they gravitate toward different kinds of storytelling. Even just the way stories are written, every part of our business conventions. We're disrupting that, so why wouldn't we disrupt it all?"
"Newsrooms have always had challenges, but now we have challenges in more public ways and I think that is good for our business. It's going to make us better."
Leadership lessons on the importance of transparency and newsroom culture
In response to the question "how do you define culture, and how can the Maynard 200 fellows use culture to their leadership advantage?" Merida said culture can serve newsrooms as a grounding principle for inclusion.
"I always think transparency can't be underestimated. We have to have a lot more open conversations. As citizens of this workplace, what are we going to stand for? How are we gonna operate? What is the environment of inclusion? What do we do that brings ourselves closer to our community? Culture defines an environment where everybody is welcome, where we can accommodate all kinds of people."
Merida closed the plenary session with a call to action that echoed the vision of the institute's founder, Robert C. Maynard who declared in 1978, "We must desegregate this business…Newsrooms have a responsibility to cure the legacy of racism." The Institute has trained three Maynard 200 cohorts, who are now being promoted in both mainstream and ethnic media newsrooms such as the New York Times, Los Angeles Times, Mother Jones, theGrio, the Associated Press, The Washington Post, the Washington Informer, Mundo Hispanico, Queerency, Univision KDTV Bay Area, Nieman Journalism Lab, among many others. Some of them are also have been awarded grants for entrepreneurial media ventures. As the Maynard Family grows, the journalism industry becomes closer to curing the legacy of racism.
About Maynard 200 faculty and mentors
The Maynard 200 program is grateful to Kevin Merida and all members of this year's faculty who led sessions and all who continue to serve as mentors. This year's faculty is once again a high-caliber roster of 60+ executives in media and other relevant disciplines. Their expertise and representation mirror that of our fellows – of diverse heritage, geography across the United States and globally, affiliation at mainstream and ethnic media outlets as well as entrepreneurial ventures.
The Maynard 200 program includes three areas of focus: media entrepreneurship, executive leadership and storytelling. Each track is led by accomplished experts, and this year we are privileged to have media strategist Dickson Louie for media entrepreneurship, former newsroom C-suite executive Virgil Smith in executive leadership, and award-winning investigative reporter and author Aaron Glantz for storytelling. Dickson Louie and Virgil Smith serve on the institute's board of directors as well.
Serving as track deputies this year are Emmanuel Martinez, data reporter at The Markup who was also a session speaker for Storytelling; and Waylae Gregoire, Partner, Head of Business Development at NextShark, for Media Entrepreneurship.
The Maynard Institute's allies in the field have been instrumental in this year's recruitment and selection of our stellar 2021 fellows including Investigative Reporters and Editors (IRE), Asian American Journalists Association (AAJA), National Association of Hispanic Journalists (NAHJ), Native American Journalists Association (NAJA), National Association of Black Journalists (NABJ), Poynter Institute, the Craig Newmark Graduate School of Journalism at the City University of New York (CUNY), and Society for Professional Journalists (SPJ). Special thanks to IRE's support for this year's mentorship roster, which includes their distinguished board members and network partners.
The 2021 Maynard 200 Journalism Fellowship is supported by Google News Initiative, Craig Newmark Philanthropies, The Hearthland Foundation and the McClatchy Foundation.
The 2021 Faculty Roster
Plenary and Track Session Speakers:
Kevin Merida – Executive Editor, Los Angeles Times / Board Member, Maynard Institute for Journalism Education
Caroline Ceniza-Levine – Co-Founder, Dream Career Club
Nicholas Whitaker – Well-Being and Mindfulness Coach
Adriana Lacy – Freelance Journalist and Audience Strategist
Jinah Kim – CEO and Founder, World Wise Productions/ NBC News correspondent
Arthur Korteweg – Dean's Associate Professor in Business Administration/Associate Professor of Finance and Business Economics, USC Marshall School of Business
James Nixon - Vice President, Digital Product Management, Marketing Technology, Hilton
Alison Saldanha – Data Reporter, NPR's California Newsroom and the Seattle Times
Emmanuel Martinez – Data Reporter, The Markup
Catherine Eckstein – CEO, Cornerstone CMO / General Partner, Sonoran Founders Fund
Tom Nixon – Owner, Tom Nixon Designs
Sandra Clark – Vice President, News and Civic Dialogue, WHYY-FM, Philadelphia
Katrice Hardy – Executive Editor, The Dallas Morning News
Mentors for Storytelling:
Cheryl W. Thompson – Senior Editor, Station Investigations / Investigative Correspondent, NPR
Monique O. Madan – National Investigative Reporter, USA TODAY
Josh Hinkle – Director Investigations & Innovation / Political Host, KXAN/NBC Austin/Nexstar
Deepa Fernandes – Correspondent / Senior Newsroom Advisor, Race and Equity, San Francisco Chronicle
Priya Sridhar – Political Reporter, NBC San Diego
Paul Radu – Co-Founder and Co-Executive Director, Organized Crime and Corruption Reporting Project [OOCRP]
Yahya Abou-Ghazala – Production Assistant, CNN Investigates
Jyoti Thottam – Senior Opinion Editor, The New York Times
Alyssa Jeong Perry – Producer, NPR's CodeSwitch
Leslie Eaton – Senior Editor, Investigations, The Marshall Project
John Harden – Data Reporter, The Washington Post
Jazmine Ulloa – Congress / National Politics Reporter, The Boston Globe
Jordan Rau – Senior Correspondent, Kaiser Health News
AC Thompson – Staff Reporter, ProPublica
Kamala Kelkar – Senior Investigations Editor, KPCC and LAist
Mentors for Executive Leadership:
Joanne Po – Head of Multimedia Content / Executive Producer, Coin Desk
Regina Reyes – Vice President, News & Current Affairs, ABS-CBN Channel 2 - Philippines
Michael Days – Former Vice President Diversity and EIC, Philly Daily News / Partner, Editors on Call, LLC
Sandra Clark – Vice President, News and Civic Dialogue, WHYY-FM, Philadelphia
Katrice Hardy – Executive Editor, The Dallas Morning News
Henry Furhmann – Retired / Former Editor, Los Angeles Times
Susan Leath – COO, The GroundTruth Project / Board Member, MIJE
Debra Addams Simmons – History and Culture Executive Editor, National Geographic/ Board Member, MIJE
Christian (Chris) Hendricks – President, Local Media Consortium / Managing Partner, Extol Digital / Venture Partner, Impact Venture Capital / Board Member, MIJE
Joe DiNunzio – Executive Director, Mike and Renee Child Institute for Innovation and Entrepreneurship, UC Davis
Jose Carlos Zamora – Senior Vice President Strategic Communication, Univision News
Amanda Barrett – Vice President/ Head of News Audience, The Associated Press/ M200 Alumna - Exec. Leadership-2019
Maxie C. Jackson III – Chief Content Officer, New England Public Media / M200 Alumnus - Media Entrepreneurship-2019
Ronnie Ramos – Executive Editor, Daily Memphian
Adriana Lacy – Freelance Journalist / Audience Strategist
Mentors for Media Entrepreneurship:
Aprill O. Turner – PR Strategist / Board Member, Maynard Institute for Journalism Education
Bruce Koon – Former Public Media Executive, KQED / Consultant, Maynard Institute for Journalism Education
Alli Joseph – Brand Evangelist / On-Camera Host / Journalist / Producer
Ashley Alvarado – VP of Community Engagement and Strategic Initiatives, KPCC + Southern California Public Radio LAist ,
Kim Bardakian – Senior Director, Partnerships, Kapor Center / Board Member, Maynard Institute for Journalism Education
Mike McPhate – Founder, California Sun
Alec Saelens – Manager, Solutions Journalism Network's Revenue Project-SJN
Jinah Kim – WorldWise Productions / Inventor, NIKO USA, LLC / Part-Time Correspondent, NBC News
Roxann Stafford – Managing Director, The Knight-Lenfest Local News Transformation Fund
George Haj – President, Haj Media - Strategic Communications
Marisa Porto – Assistant Dean of Administration, Scripps Howard School of Journalism and Communications - Hampton University / Former Publisher/Editor, Tribune Publishing's Daily Press Media Group
Sally Lehrman – CEO, The Trust Project
Yasmin Namini – Digital Media Consultant + Advisor [Global]/ Former Chief Consumer Officer, The New York Times
Candice Fortman – CEO / Executive Director, Outlier Media