The Associated Press announced new members of the senior News leadership team to ensure AP maintains its standing as the world's preeminent fact-based news organization. Maynard Institute alum Amanda Barrett, previously AP's Deputy Managing Editor, was promoted to Vice President and Head of News Audience in September 2021.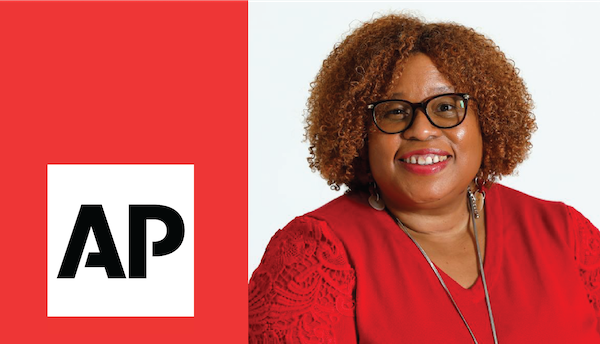 From the announcement:
"In this new role, Amanda will have a relentless focus on how AP's news is consumed online, by consumers on AP News and customers on AP Newsroom, as well on social media. At the heart of Amanda's job is the audience experience — those we reach through our customers and the audiences we are growing on our own platforms and social media accounts. Amanda will also continue to oversee the Nerve Center and play a leading role in AP's diversity and inclusion efforts, with the goal of ensuring that these priorities are shared and implemented across News."
Reflections on the Maynard Institute programs
We recently caught up with Amanda to congratulate her new role as AP's Vice President and Head of News Audience. She reflected on the Maynard Institute's programs that impacted her.
"I first encountered the Maynard Institute when I attended the Media Academy in 2009. Little did I know the profound effect Dori, Evelyn, Martin, and the program would have on my life. I learned so much about being a manager: how to have difficult conversations, how to solve complex business challenges. And I built friendships that I still depend on." Amanda Barrett, VP and Head of News Audience, The Associated Press
In addition to the Maynard Academy, Amanda participated in the Maynard 200 Fellowship, one of the Institutes core programs that provides advanced training for mid-career journalists of color interested in leadership roles.
"Over the years, the Maynard mentorship never ended. Eventually, Evelyn asked me if I would be interested in a program that would help propel my career to another level and that turned out to be the Maynard 200. Executive coaches Virgil Smith and Caroline Ceniza-Levine were phenomenal, in addition to my mentor Susan Leath. I am so blessed to be a part of the Maynard family." Amanda Barrett, VP and Head of News Audience, The Associated Press
Contributions as a longtime newsroom manager
Excerpt from feature originally published by AP:
"Barrett joined AP in New York in 2007 as a content coordinator, working with journalists across the company on interactive projects. She became deputy East editor in 2009, helping to establish a new regional desk in Philadelphia and lead AP's coverage of 10 northeastern U.S. states.
Two years later, she returned to New York as city news editor, directing AP's award-winning coverage of Hurricane Sandy and its aftermath. In 2015, she moved to the Nerve Center as planning and administration manager and assumed leadership in 2017.
Barrett has played a critical role in coordinating news coverage of many of the biggest stories of recent years, including hurricanes Harvey and Maria, the #MeToo movement and the 2018 Winter Olympics. Barrett also serves as a leader of AP's race and ethnicity reporting team.
Before joining AP, Barrett worked at Newsday, where she led a team of interactive journalists and managed the NYNewsday.com and amNY.com websites. She previously worked as a sports editor at the Orlando Sentinel and at the Roanoke Times in her hometown of Roanoke, Va."