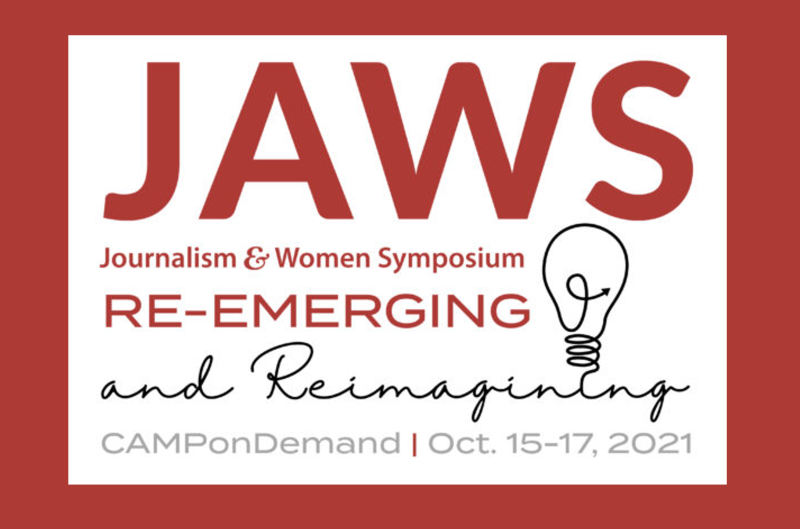 Founded in 1984, the Journalism & Women Symposium (JAWS) brings together working journalists, journalism educators and researchers from across the country to share resources, support, training and information about issues that affect women in the industry.
The annual Conference and Mentoring Project (CAMP) took place virtually October 15 - 17, 2021. The conference theme this year is "Re-emerging and reimagining: What's next for women in journalism?" The idea behind the theme is to look forward, from the tumultuous events of the past year and a half and to envision how we can make journalism a healthier, saner, stronger and more trusted profession.
The Maynard Institute's Co-executive director Evelyn Hsu moderated the panel discussion titled What's changed in newsrooms since George Floyd's death? on October 15th at 3:30pm Eastern. The session explored how many newsrooms faced their own internal reckoning after the murder of George Floyd and created new leadership positions devoted to diversity, equity, inclusion and belonging. Panelists candidly discussed the progress and challenges they foresee ahead.
Panelists include:
Ashley Alvarado, Vice President, Community Engagement & Strategic Initiatives, Southern California Public Radio (KPCC/LAist)
Cynthia Benjamin, Director of Audience Engagement & Trust, Gannett and USA TODAY Network
Krissah Thompson, Managing Editor, Washington Post
Naomi Ishisaka, Assistant Managing Editor for Diversity, Equity & Inclusion, Seattle Times
Learn how news organizations need more than job titles to establish anti-racist, diverse, equitable and trustworthy newsrooms.