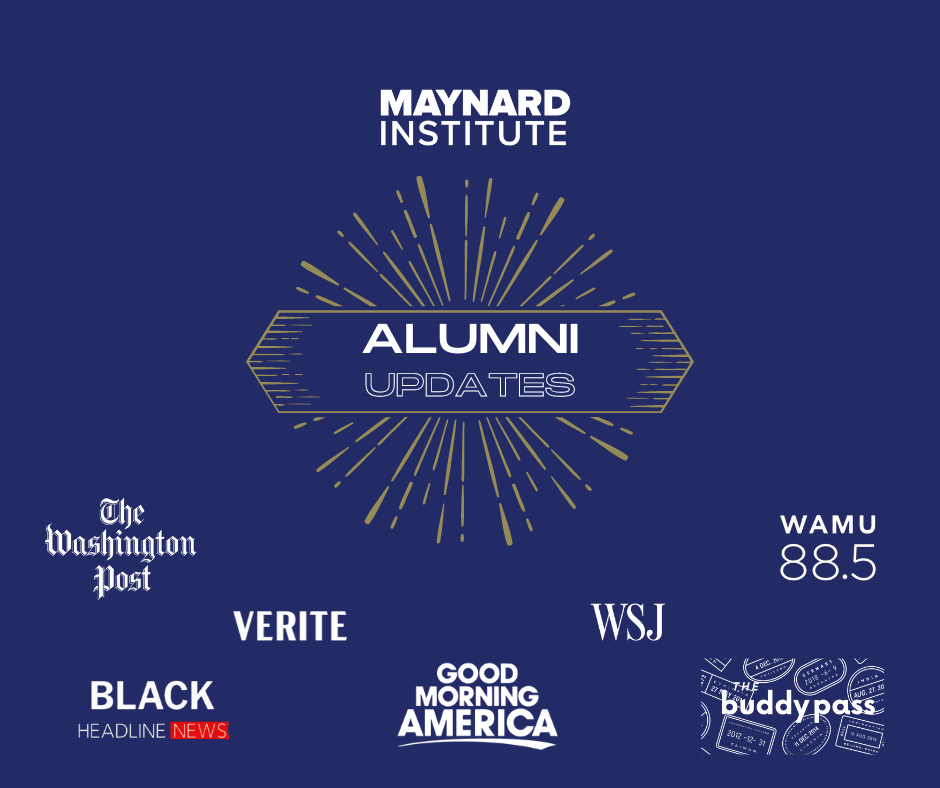 The Maynard Institute has trained journalists of color for over 45 years, so there are always alumni promotions and wins to celebrate! Check out the latest alumni updates from the summer and fall of 2022.
Brianna Tucker (Maynard 200 Fellowship 2022) becomes deputy politics editor at the Washington Post
In her new role, Tucker will help drive campaign and congressional coverage aimed at engaging the next generation of Post readers and subscribers. She has worked at the Washington Post on the newsletter team since 2021. She is in the Frontline Editors and Managers track of the Maynard 200 Fellowship.
Delonte Harrod (Maynard 200 Fellowship 2021) and The Intersection Magazine join Black Headline News
The Intersection Magazine, joined Black Headline News, a partnership of Black-owned media outlets, as founding member. Harrod, a Maynard 200 Felloship entrepreneur track alumni, founded the digital publication in 2020. "The Black Headline News (BHN) channel is a collaborative movement, highlighting the importance of disseminating valuable information to communities across the nation from a Black perspective. The collective effort gives Black-owned media outlets a free, unified, safe, platform to connect with online readers, viewers, and listeners nationwide, sharing content across the world diaspora, expanding their reach, brand, and audience," says the BNC's call to action.
Lottie Joiner becomes the New Verite Managing Editor (Maynard 200 Fellowship 2021)
Joiner, an award-winning journalist with more than two decades of experience covering issues that impact underserved and marginalized communities, is joining Verite's newsroom leadership team as assistant managing editor. Lottie was a Maynard 200 Fellow with a focus on executive leadership and a 2021 participant in the Poynter Leadership Academy for Women in Media program.
Robin Turner (Editing Program 1985) becomes new VP, Training, Culture and Community at Dow Jones/Wall Street Journal
The longtime diversity, equity and inclusion executive was most recently the Director of Editorial Diversity Initiatives at Politico, before joining the the team at Dow Jones/Wall Street Journal, where she will focus on Dow Jones newsrooms, as well as working with leaders and others across company verticals to drive DEI strategy into all aspects of our global business. She helped to found the Politico Journalism Institute (PJI), an initiative to advance young journalists of color, in 2014, with guidance from Dori Maynard and Evelyn Hsu of the Maynard Institute of Journalism.
Media venture by Michael Tennant (Maynard 200 Fellowship 2022) is featured on Good Morning America
Tennant is the founder of Curiosity Lab, a movement to spread empathy. Actually Curious, the empathy card game created by Curiosity Lab, was recently featured on a segment for Good Morning America. The Maynard 200 2022 Fellow focusing on entrepreneurship, describes the deck as "a conversation card game that uses the science and psychology of trust-building and emotional connection to bring people closer together."
Teresa Frontado (Multimedia Editing Program 2012) joined WAMU as executive editor
With over 20 years of experience working as a bilingual journalist and editor for media organizations in the United States and Latin America, Frontado joins the NPR affiliate in Washington, DC, WAMU 88.5. She most recently worked as the executive editor for the NPR affiliate in Austin, Texas for over 2 years.
Leroy Adams (Maynard 200 Fellow 2019) receives capital investment for his Black travel magazine, The Buddy Pass
Adams founded The Buddy Pass in 2018 based on a mission to promote, celebrate, and encourage Black travel. The 2019 Maynard 200 Fellowship alum received capital investment, multi-year content partnership from the yet-unnamed entity. Adams commented that, "Everything I learned from Maynard–from the business model canvas to the practice pitch sessions–helped me get here."
About the Maynard Institute for Journalism Education
For 45 years, the Maynard Institute has fought to push back against the systemic lack of diversity in the news industry through training, collaborations and convenings. Founded by Robert C. Maynard, the Institute promotes diversity and antiracism in the news media through improved coverage, hiring and business practices. We are creating better representation in U.S. newsrooms through our programs , which gives media professionals of color the tools to become skilled storytellers, empowered executives and inspired entrepreneurs. Visit the Maynard Institute website to learn more.
Are you an alumni with exciting professional news?
Contact Community Engagement Manager, Ava Macha, at amacha@mije.org to be featured in our next Maynard Family Update.