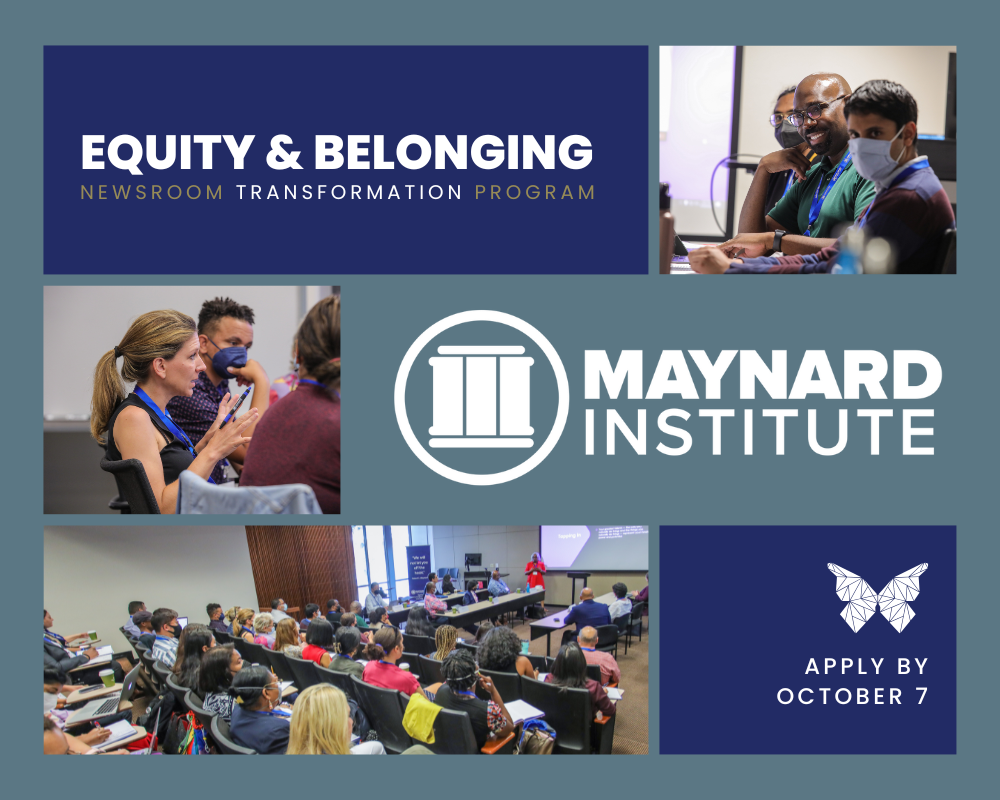 Applications are now closed.
Is your news organization ready to establish a more equitable workplace and provide better coverage of underserved communities? Subscribe for email updates about our next program application period.
FOR IMMEDIATE RELEASE — Oakland, Calif. (September 9, 2022): The Robert C. Maynard Institute for Journalism Education, a nonprofit dedicated to expanding diversity in the news media and dismantling structural racism in newsrooms, announced today the launch of the Equity and Belonging Newsroom Transformation Program. The pilot program, funded by the John S. and James L. Knight Foundation, is an initiative that will pair news organizations with consultants who have a wealth of experience training journalists on diversity, equity, inclusion and belonging (DEIB) issues. The goal is to help transform workplace structures, organizational cultures and news coverage to be more inclusive and reflective of the United States.
To launch the new initiative, Maynard will pilot the program in two news organizations during two five-month periods. One organization selected will be an alumni of the Table Stakes Local News Transformation Program. The second pilot program is open to nonprofit, for-profit and independent news organizations across the country. Applications for the Equity and Belonging Newsroom Transformation Program must be submitted by 11:59 P.M. PDT on Oct. 7.
Each news organization will work closely with the Maynard Institute team and consultants Global Equity Collective and CRB Global LLC & Rich Diversity Consulting LLC to create the strategies, plans, benchmarks and training to implement DEIB values for lasting impact. Joining the Maynard team will be Jean-Marie Brown, Maynard Fault Lines® senior trainer and professor of professional practice in journalism at Texas Christian University. Mei-Ling Hopgood, journalist and professor at the Medill School of Journalism, Media, Integrated Marketing Communication at Northwestern University, will document the impact of the initiative and publish a case study at the conclusion of the pilot program.
"Too often diversity efforts are performative," said Martin G. Reynolds, co-executive director of the Maynard Institute. "We want to operationalize belonging so that BIPOC and folks of diverse backgrounds can thrive and contribute even more meaningfully to the growth, sustainability and credibility of the outlets where they work.
"We want to show that when organizations invest in equity and inclusion, working relationships between people improve, there is less labor strife, attrition and toxicity. Newsrooms that center the concept of belonging foster innovation, better journalism, and more importantly, the capacity to build or repair relationships with communities. We are excited to see what we can create through this program," Reynolds said.
"This initiative presents a great opportunity to bring experts in the field together to lead two news organizations toward sustainable, equitable change," said Felecia D. Henderson, director of cultural competency at the Maynard Institute. "Our goal is to test methodologies, re-test, and document the processes of both pilot programs in order to replicate the work to assist future media outlets that want to make meaningful change."
About the Maynard Institute for Journalism Education
For 45 years, the Maynard Institute has fought to push back against the systemic lack of diversity in the news industry through training, collaborations and convenings. Founded by Robert C. Maynard, the Institute promotes diversity and antiracism in the news media through improved coverage, hiring and business practices. We are creating better representation in U.S. newsrooms through our programs , which gives media professionals of color the tools to become skilled storytellers, empowered executives and inspired entrepreneurs. Visit the Maynard Institute website to learn more.
Questions?
CONTACT:
Felecia D. Henderson
Director of Cultural Competency, Maynard Institute
fhenderson@mije.org
Martin G. Reynolds
Co-Executive Director, Maynard Institute
mreynolds@mije.org
Join the Newsroom Transformation Program
Applications are now closed. Subscribe for email updates about our next program application period.