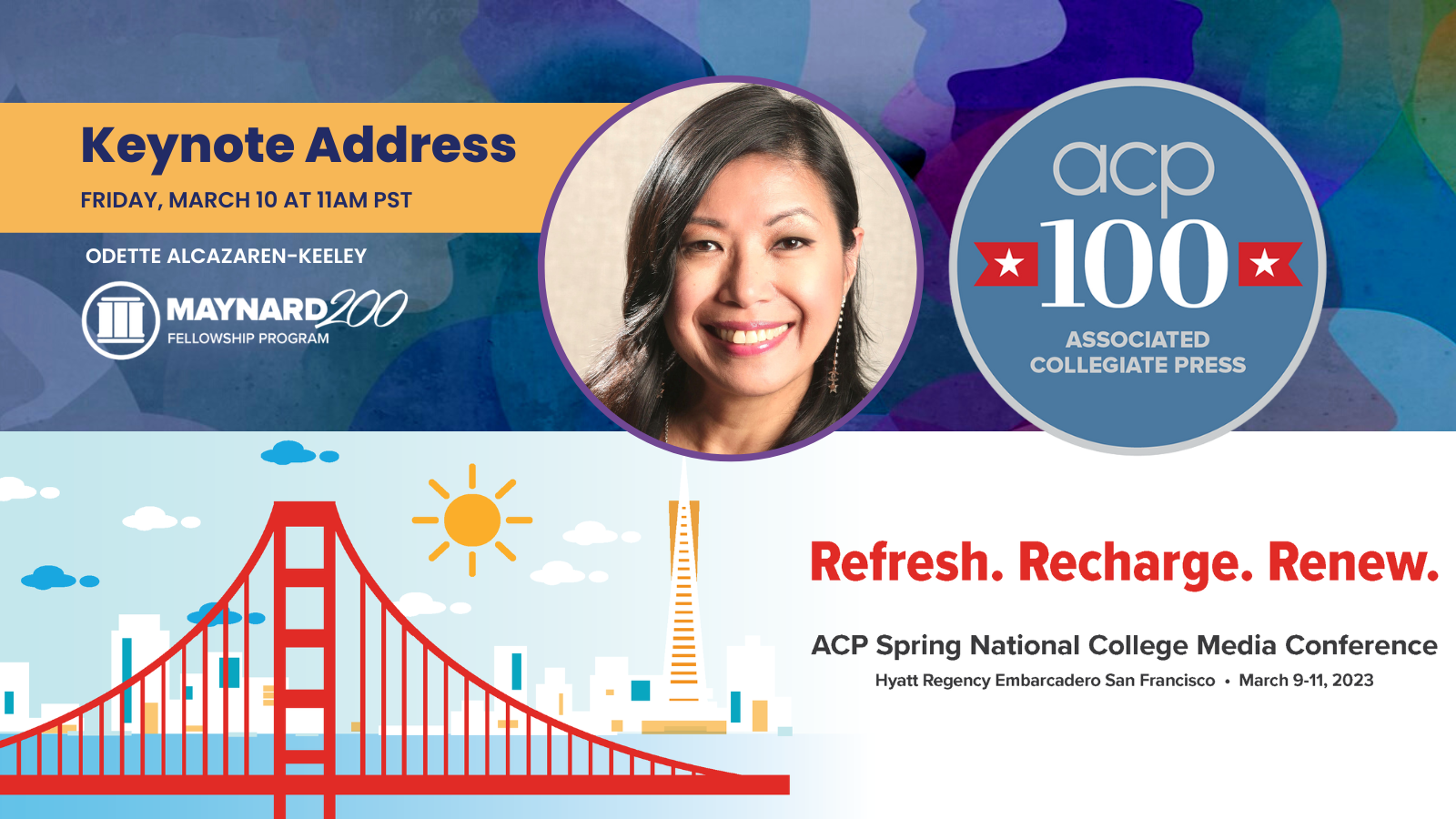 Join Maynard 200 Fellowship Director, Odette Alcazaren-Keeley for a keynote address at the Associated Collegiate Press (ACP) Spring National College Media Conference on Friday, March 10, 2023 at 11:00am Pacific Time in San Francisco to learn about the fellowship program and more!
Maynard 200 is the cornerstone professional development program advancing the Maynard Institute's mission to expand the diversity pipeline in news media and dismantle structural racism in its newsrooms. Since 2018, the Maynard Institute has trained over 140 media leaders, storytellers, and entrepreneurs, through cutting-edge curricula by executive-level faculty and experts across relevant disciplines, seeking to advance their media career and bolster their leadership power. In addition, Maynard 200 fellows are paired with a veteran media professional or issue expert who has committed to mentoring the fellow for a full year.
Odette Alcazaren-Keeley is a diversity communications and media executive, and currently serves as the director of the Maynard 200 journalism fellowship program of the Maynard Institute for Journalism Education. In 2022, she was the recipient of the Society of Professional Journalists, Northern California chapter, Unsung Hero Award and received recognition for her role as Director of the Maynard 200 Fellowship program, "one of the most powerful incubators for journalists of color in the country."
*Attendees must be registered for the ACP conference to attend this in-person event.
---
The deadline to apply for Maynard 200 is March 31, 2023. Read more about the Maynard 200 Fellowship program. Maynard 200 has been a tuition-free fellowship program through the support of our individual donors and grantmaking funders such as Google News Initiative, Craig Newmark Philanthropies and The Hearthland Foundation. The Fox Corporation is also a returning sponsor for the 2023 program.