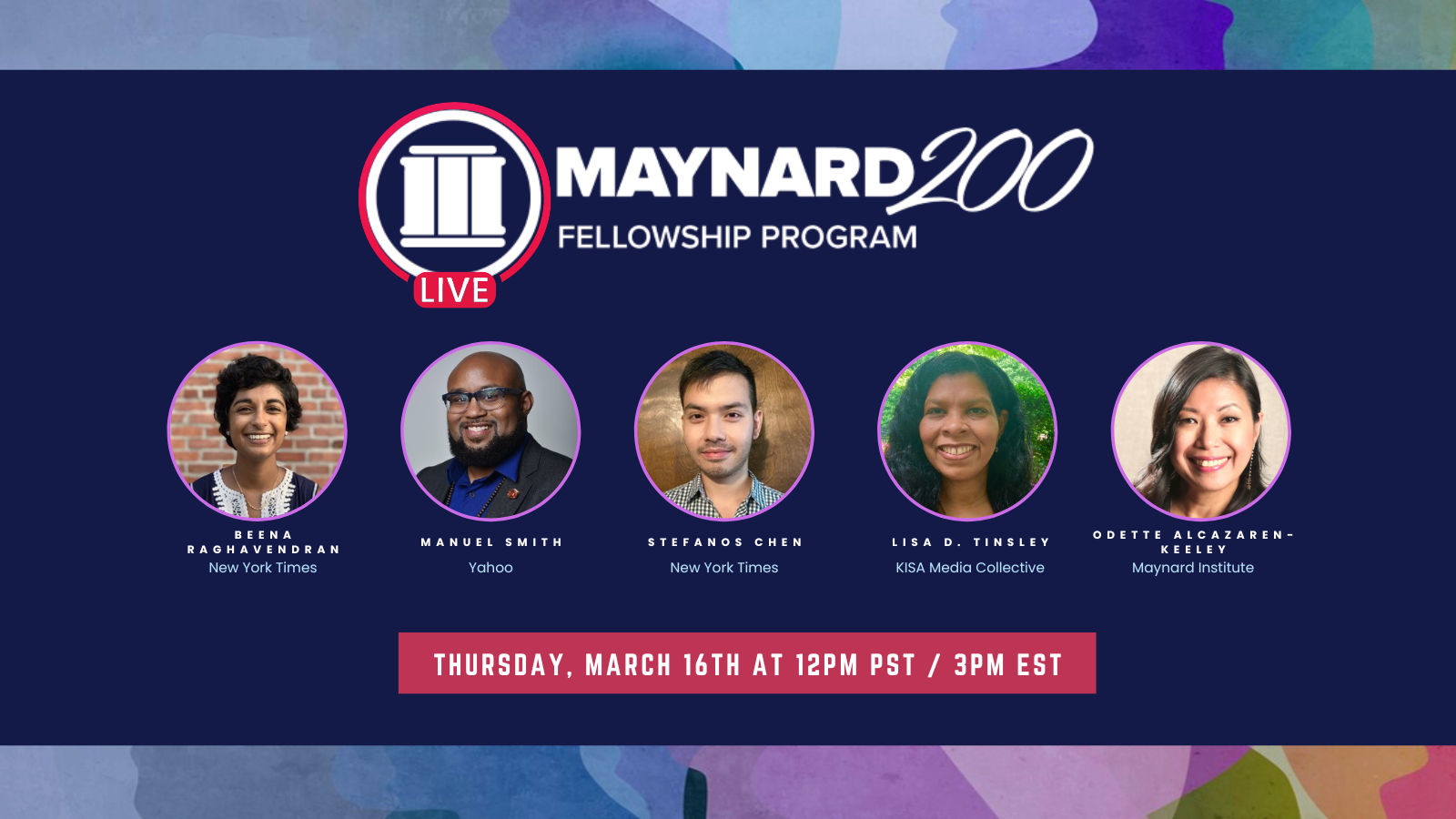 Join Maynard 200 alumni special guest speakers and Program Director, Odette Alcazaren-Keeley for a webinar to learn more about the fellowship program, on Thursday, March 16, 2023 at 12:00pm PT / 2:00pm CT / 3:00pm ET.
Maynard 200 is the cornerstone professional development program advancing the Maynard Institute's mission to expand the diversity pipeline in news media and dismantle structural racism in its newsrooms. Since 2018, the Maynard Institute has trained over 140 media leaders, storytellers, and entrepreneurs, through cutting-edge curricula by executive-level faculty and experts across relevant disciplines, seeking to advance their media career and bolster their leadership power. In addition, Maynard 200 fellows are paired with a veteran media professional or issue expert who has committed to mentoring the fellow for a full year.
Get key information about this year's program and gain insights to make your application competitive. Hear directly from Maynard 200 alumni about their fellowship experience, which they consider transformative in their media careers.
This webinar is designed for investigative reporters, executive leaders, media entrepreneurs, and frontline editors and managers, who are interested in the Maynard 200 fellowship.
Webinar attendees will learn:
Program eligibility requirements
Tips for a successful application
Curriculum and mentorship benefits
Networking opportunities and more!
The deadline to apply for Maynard 200 is March 31st.
Watch the recording (Passcode: x%EJ179d) for this webinar on March 16th to learn more about the fellowship and what it means to be a part of the Maynard family!
Alumni Speakers from Maynard 200 Class of 2022
Beena Raghavendran, New York Times, Frontline Editors and Managers track
Beena specializes in crowdsourcing, community engagement and news accessibility. She works at The New York Times as an editor focusing on digital storytelling and training journalists. Beena was awarded a 2021 Online News Association MJ Bear Fellowship recognizing her efforts to engage with and make journalism accessible to communities with intellectual and developmental disabilities. Before joining the Times, she was an engagement reporter at ProPublica, where she crowdsourced in communities nationwide for local investigations, ran events and community meetups and trained reporters on engagement reporting. She started her career as an education beat reporter at the Star Tribune in Minneapolis. Beena has also led the Asian American Journalists Association's young professionals network and was AAJA Minnesota chapter president.
Manuel Smith, Yahoo, Executive Leaders track
Manny is Senior Editorial Manager, Homepage Programming at Yahoo. He was previously managing editor of the CBS newsroom in Philadelphia where he guided daily content and coverage for "Eyewitness News." He held previous news assignment roles for NBC News' New York bureau and the FOX News national desk. Beyond the newsroom, he's active in supporting efforts of grassroots community to expand access to education and health in Philadelphia. He is also a convener around newsroom diversity + equity concerns and is Immediate past president of the Philadelphia Association of Black Journalists and advises the Lenfest Institute for Journalism.
Lisa D. Tinsley, KISA Public Radio, Media Entrepreneurs track
Lisa's passion for news and media began in her early teenage years. Whether in the library or completing research in college, she has always enjoyed working in the news and media industries. A graduate of Loyola Marymount and Florida State Universities, Lisa has worked as a news researcher and archivist for 25 years. She loves to share her research that will enrich the lives of others. On June 1, 2017, Lisa launched KISA Public Radio, an online African American news and culture station highlighting public affairs and news in the arts, business, science, technology and sports. Listeners worldwide tune in daily to hear dynamic audio documentaries and interviews at kisaradio.org.
Stefanos Chen, New York Times, Investigative Storytellers track
Stefanos is a real estate reporter based in New York City. He joined The New York Times in 2017 after five years with The Wall Street Journal, where he was a reporter and multimedia producer. Previously, he spent two years as a reporter and editor covering real estate for the Huffington Post and AOL. Born and raised in Queens, he is a graduate of Vassar College and Columbia University Graduate School of Journalism.
Moderated by:
Odette Alcazaren-Keeley, Director, Maynard 200 Fellowship
Odette Alcazaren-Keeley is a diversity communications and media executive, and currently serves as the director of the Maynard 200 journalism fellowship program of the Maynard Institute for Journalism Education. In 2022, she was the recipient of the Society of Professional Journalists, Northern California chapter, Unsung Hero Award and received recognition for her role as Director of the Maynard 200 Fellowship program, "one of the most powerful incubators for journalists of color in the country." She is also the president and founding partner of Global MediaX, a strategic multicultural and international media consultancy group headquartered in the San Francisco Bay Area. Its lead clients include the Presidio Trust, recipient of a 2018 Public Service Award, the Maynard Institute for Journalism Education, the Oakland Asian Cultural Center, Catholic Charities of San Francisco and the African Diaspora Network. Previously, she had served as a consultant for the Democracy Fund.
---
Read more about the Maynard 200 Fellowship program. Maynard 200 has been a tuition-free fellowship program through the support of our individual donors and grantmaking funders such as Google News Initiative, Craig Newmark Philanthropies and The Hearthland Foundation. The Fox Corporation is also a returning sponsor for the 2023 program.